Renowned Radio Presenter Alex Mwakideu has revealed that the 50 pay cut effected on their wages during the Covid-19 pandemic became a turning point in his life.
Speaking to Daniel Ndambuki alias Churchill during the Churchill Show Journey Series which aired on Sunday, December 5, 2021, the Milele FM presenter revealed that he managed to start a lucrative business during the pandemic.
I 2020, Mediamax, the parent company that owns Milele FM effected 50 per cent pay cuts to all its employees across all its media brands.
Mwakideu revealed that the pay cut left him in a complicated situation, either to look for alternative streams of income or change his lifestyle and adjust to reduced wages.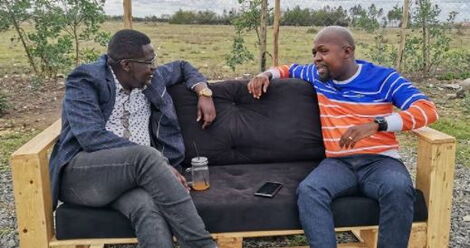 "I asked myself two questions after the slash, I either had to go back to my wife we need to change our lifestyle because we do not have 50 per cent income or I find ways to raise the money elsewhere," the Milele FM presenter narrated.
First, Mwakideu opened a carwash business. Months later, he launched a restaurant and another carwash. The eatery which is known as Pampered Village, is located in Kitengela.
He explained that launching the business venture also had its challenges. At first, he identified a spot for the carwash but the estate demanded he presents a portfolio that indicated he was successful in managing another company.
His friend, Steve, intervened and presented a company portfolio. He guided Mwakideu in opening and running the business, step by step.
After it became a success, he proceeded to establish Pampered Village.
"The business was booming and I had hit the 50 percent income that had been slashed from my salary. I decided to scout for another location here in Kitengela and I was just driving as I looked around. So I got this space. It was a vast land," Mwakideu stated.
He also hinted at a stab at politics.