Jubilee Party Mathare parliamentary candidate Kevin Kioko popularly known as Bahati has revealed that he has spent close to Sh33 million on his campaigns.
Speaking during an interview with Tanzanian journalist Millard Ayo, the musician-turned-politician further intimated that he will spend Sh10 million on election day on Tuesday, August 9.
He, however, said that he has received funding from his fans, friends and his party, which he affirmed has accorded him immense support in his campaigns.
"I have used almost Sh33 million in campaigns. I have been given a great support from my fans, friends and my Jubilee Party which has been very supportive. Even though when I sometimes cry on TV they (Jubilee) don't speak, they immensely supported me," Bahati stated.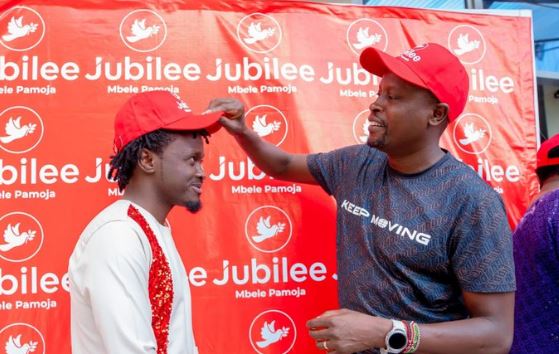 Bahati said that the Sh10 million he was planning to use during the election day was to cater for his agents and other expenses related to the polls.
"My budget for election day is around Sh10 million. It will cater for my agents and other things. If it goes too little it will be Sh7 million," Bahati said.
He also said that he had used around Sh10 million from his music to fund his campaigns.
Bahati added he was not vying for the seat because of money maintaining that makes a lot more money than an MP's salary in a month.
He claimed that he chose to run for the seat because he was born and raised in Mathare and thus understands the constituency's problems and will solve them once he clinches the position.
Bahati is facing strong opposition in the race from ODM's Anthony Oluoch, who is the incumbent MP for Mathare.