Youthful Nairobi politician and businessman Steve Mbogo is widely known for being one of the wealthiest young men in the country.



Thanks to his wealth, Mbogo has been able to leave a lavish lifestyle, making him an envy of many social media users.

In 2015, the youthful politician made headlines after he reportedly hosted a weekend party that cost upwards of $400,000 in Dubai.
Mbogo is said to have hired a private yatch and hosted a party that was attended by among others; Big Sean and Trey Songz.
Mbogo's pray coincided with Formula One's Rich List experience that brought together a host of renowned global celebrities including; Kim Kardashian, Lewis Hamilton, Nelly, Akon, Tyga, and French Montana among others.
On his Instagram page, Mbogo shared photos with celebrities like Akon and later put out a post stating "Money well spent….Money is always a by-product of success #teamstevembogo #richlistgroup."


Additionally, he shared an invoice indicating that he had spent over Sh40 million for the weekend party.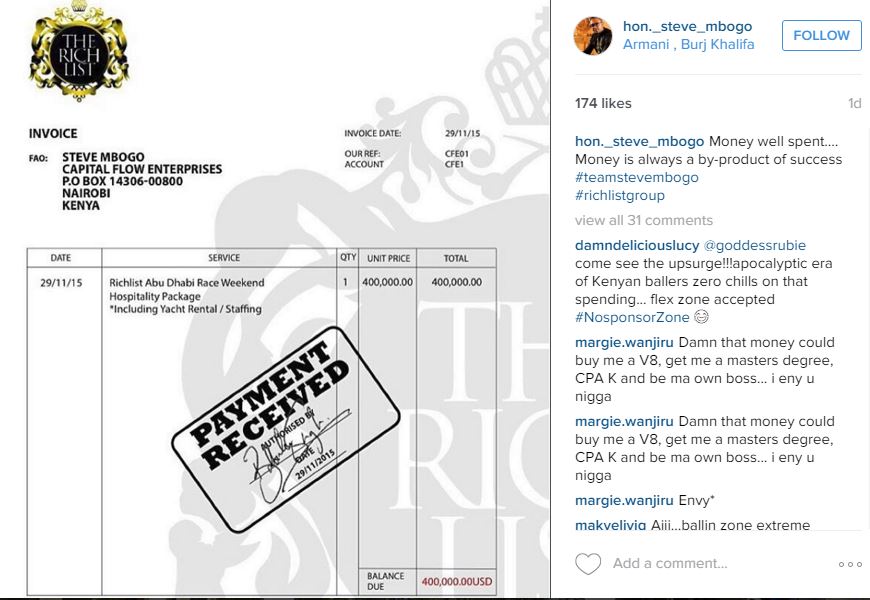 A screengrab of an invoice published by Steve Mbogo on his Instagram page. [Photo: Courtesy]
Justifying his decision to spend the huge amount on a single weekend, Mbogo noted that to build great networks, one must spend.
In the same year, Mbogo is reported to have spent over Sh10 million on his birthday which was held at DusitD2.
Mbogo has several business ventures that earn him revenue which he uses to finance his flamboyant lifestyle.
While he has invested in several sectors, his luxury goods company dubbed
Capita; Flow Enterprises, is his biggest investment.

In 2015, the business was estimated to be worth $130 Million (Sh13 Billion) in revenues.
According to reports on Citizen Digital, in addition to the business above, Mbogo also owns a freight forwarding company, a wine estate and a flight training school at Wilson Airport.
He has also invested in the hospitality sector, where is said to own twelve hotels of four-star status, over 30 apartments in Nairobi and several night clubs.
He is also reported to have played a role in the development of Mimosa Golf Club.
In terms of partnerships, he is said to co-own, several stock brokerage companies at the Nairobi Securities Exchange and a couple of law firms among other business ventures.
In 2017, he vied for Starehe parliamentary seat, but unfortunately lost to Charles Njagua popularly known as Jaguar.