The United States of America (USA) commonly referred to as the United States is known to be a no-nonsense nation when it comes to matters of security and issues around integrity.

Over the years, the country has imposed bans on leaders and influential personalities from across the world over claims of contradicting different aspects of the nation's laws.
Among the list of persons who received penalties are several Kenyans who've been banned from setting foot in the United States.
In this article, we review some of the prominent Kenyans banned from travelling to the land of the free.
Chris Murungaru
The former Transport Minister in late President Mwai Kibaki's government was banned from entering the US in 2005.
According to reports on Nation, the former Minister was banned using an immigration law signed by former President George W Bush.
The law reportedly bans persons believed to have committed or benefited from corruption that adversely affects diverse US interests from entering and doing business with the country.

Murungaru, however, protested the ban arguing that it was politically inclined.
"Their objective is a regime change – or at least a dictate of who should sit in the Cabinet and who should not," he was quoted.
Chris Okemo and James Gichuru
The two who are accused of defrauding the state and laundering proceeds to the United Kingdom have also been banned from travelling to the US.
Okemo and Gichuru are blocked from the US over claims that they illegally benefitted after awarding a Kenya Power and Lighting Company (KPLC) tender to a Jersey-based company.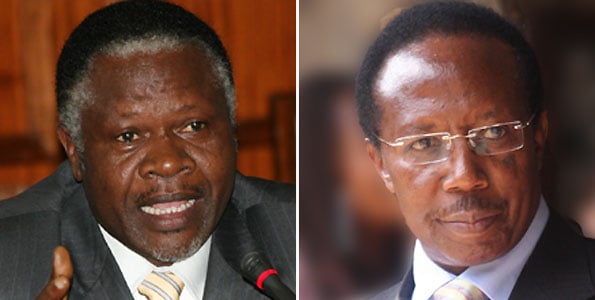 Collage photo of Chris Okemo and James Gichuru. [Photo: Courtesy]
Harun Mwau
He was banned from travelling to the US in 2011 alongside another Kenyan known as Naima Mohamed Nyakiniywa or Mama Lela.
The former legislator was banned over claims of being involved in drug trafficking. His assets in the US were also frozen; meaning he could do business with any US company or individual.


"The aim is to disrupt their financial networks to ensure that they are not used for money laundering," an official from the US embassy in Nairobi was quoted by Business Daily regarding the ban.
The former Minister, however, protested the ban and even moved to court, alleging that some people in the US were interested in his businesses, thus the decision to have him banned.
"The truth of the matter is that some people in the US are after my businesses; they should tell me politely if they want me to surrender the businesses to them, but not use unorthodox tactics to secure what is rightfully my sweat," he was quoted by Nation.
Amos Wako
The former Busia Senator was banned from visiting the US in 2019.
His ban was announced by then Secretary of State Michael Pompeo who said it was due to Wake "involvement in significant corruption."
The former Attorney General was banned together with his family, including his wife and two children.
"The Department designates former Kenyan Attorney General Amos Sitswila Wako due to his involvement in significant corruption.
"The law also requires the Secretary of State to publicly or privately designate such officials and their immediate family members. In addition to the designation of Mr Wako, the Department is also publicly designating Wako's wife, Flora Ngaira, and son, Julius Wako," Pompeo's statement read in part.
Responding to the ban, Wake claimed that he had not been notified of the specific allegations raised against him. He also distanced his family from any frog doing, noting that they were not involved in the execution of his duties as Attorney General.
"I and the people of Kenya are entitled to full disclosure on general allegations of corruption against me. These nebulous accusations and aspersions do not help in the fight against corruption and can be defamatory in nature.
" My family was not involved at all when I was discharging my functions as Attorney General. My son is an adult and a good and successful Legal practitioner living an independent life. Even if I committed the sin of corruption, which I emphatically deny, it would be my personal responsibility and my wife and son and indeed all members of my family should not be punished for my sins," he was quoted.
Mike Sonko
The former Nairobi Governor Mike Sonko and his immediate family were banned from travelling to the US in March, 2022.
According to a statement from the US Embassy in Nairobi, Sonko was banned over claims of being involved in corruption while serving as Nairobi Governor.
"His (Sonko's) corruption has been widely reported in local and international press. With this designation the department reaffirms the need for accountability, transparency and respect for rule of law in Kenya's democratic institutions, government processes and the actions of the public officials," the statement reads in part.
Reacting to the ban, Sonko claimed that he was being punished for opposing the state, adding that his family was being unfairly targeted.
"I am shocked and surprised. My wife and daughters have never applied or won any tenders while I was Nairobi governor. We have other governors facing criminal charges with their children. Mine have not been charged," he told the press.