Over the years, the Kenyan political space has changed thanks to social media, with Kenyans on Twitter and other platforms playing a key role in shaping the country's political discourse.

One of the new traits that has emerged is the use of political nicknames, where politicians are given aliases that either relate to their personality or something major that they have done.
In this article, we outline some of the hilarious nicknames given to top Kenyan politicians and where they originate from.
Kamwana/Jayden - Former President Uhuru Kenyatta
He got the two nicknames while serving as Kenya's fourth president. 'Kamwana' is a Kikuyu phrase that loosely translates to a youthful person. The name was used to create the impression that Uhuru was young to retire from politics.
On the other hand, 'Jayden' is a popular phrase, especially in urban areas. It's mostly used when referring to pampered children (cool kids). The name was coined as a ridicule to Uhuru who hailed from a powerful political family.
Doyen - President William Ruto
'Doyen' is an English phrase that means a smart and respected person in a particular field.
President Ruto was given the nickname owing to his political brilliance and wittiness that has seen him rise from an MP to be President, amid hurdles that include being charged at The Hague.
Baba/Tinga/Agwambo - Raila Odinga
The Azimio leader is arguably the leading politician when it comes to nicknames. He gets a new nickname almost every other political season. Among his many political names, some of the most popular are; Baba, Tinga and Agwambo.
'Baba' is a Swahili word that translates to father. He was given the name because he is one senior most politicians in the country who many look up to for inspiration.
He got the name 'Tinga' in while he was the leader of National Development Party (NDP). Tinga is a Swahili phrase for a tractor which was the party's official symbol.
The last name 'Agwambo' was given to him owing to his unpredictable nature politically where his announcement and moves often caught many by surprise.
MaDVD - Musalia Mudavadi
The Prime Cabinet Secretary was given this nickname as a short form for his name MuDaVaDi. The name has since stuck with the former Amani National Congress Leader.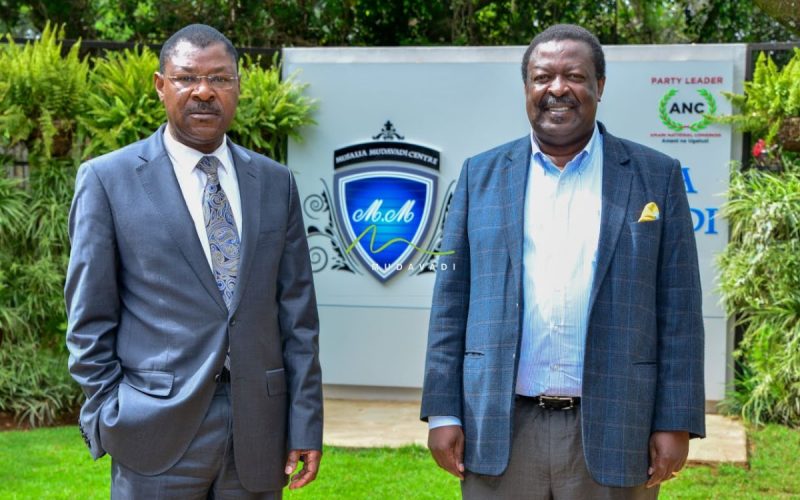 File image of Moses Wetangula and Musalia Mudavadi. [Photo: Courtesy]
Papa wa Roma - Moses Wetangula
The alias belongs to National Assembly Speaker Moses Wetangula. He was given the nickname owing to his cult-like following in Bungoma County. Netizens argue that Wetangula's directives are followed in Bungoma the same way Catholic faithful follow the directive of the Pope. Thus the name Papa wa Roma which is Swahili for Pope of Rome.
Watermelon - Kalonzo Musyoka
The Wiper Party Leader was given the moniker over what many consider to be his indecisiveness when it comes to big political decisions and moments.
In the past, Kalonzo has made u-turns on his political decisions, making many believe that he does not have a firm stand, thus his comparison to a watermelon that is green outside and red on the inside.
Mama Taa - Esther Passaris
The Nairobi Woman Rep got the nickname when she was running an initiative dubbed 'Adopt A Light' that sought to install street lights in the city's slum areas. Her role in bringing light to the slums saw her nickname Mama Taa.
Sultan - former Mombasa Governor Hassan Joho
The name came about after former Mombasa Regional Commissioner Nelson Marwa hit out at Joho, over claims that he was acting like the region's sultan.
Marwa took issue with the name, arguing that it brought back memories of slave trade. Following Marwa's attack, Sultan became a moniker for the former governor. To date, he is widely known as Sultan.
Other popular nicknames include Riggy G a moniker for deputy President Rigathi Gachagua and Iron Lady for Martha Karua among others.