When you see Fredrick Muitiriri on NTV reading the news, you get the impression that he is from a well-off background and has probably had it easy in life, as he is composed and has owned the role perfectly.

However, his story is the complete opposite as he had to work and make lots of massive sacrifices for him to end up on our screens.
Growing up, his dream was to be a journalist, however, challenges with his grade and getting funds to finance his higher education put a pause on his dream
Speaking during a past interview, Muitiriri revealed that he never took his high school education seriously and ended up scoring a C- (minus).
Since his grade could not get him a direct admission to the university, his option was to join college and pursue a diploma, but that was also not possible due to a lack of fees.
"The closest I ever got to go to a college was in 2004. Mombasa Polytechnic asked me to pay Sh49,000 for modules 1 and 2 for broadcast journalism- money that my mother didn't have," he said.
Joining the Police Service
After facing hurdles with his journalism dream, he opted to join the police service and was among the successful recruits.
While at the police, he revived his desire to be a journalist and decided to save Sh3,000 every month for his college education.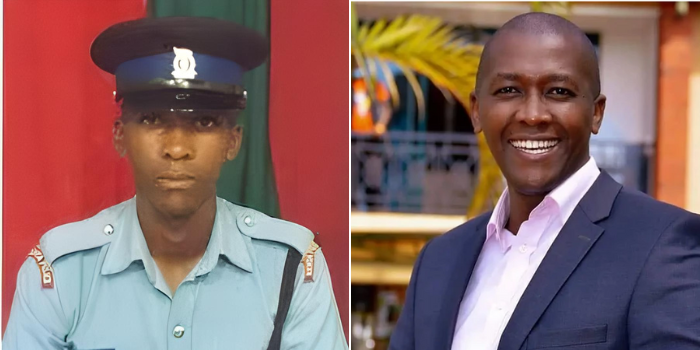 Collage photo of NTV news anchor Frederick. [Photo: Courtesy]
Everything was moving smoothly until he shared with his bosses his plan to enroll in college and pursue journalism.
His seniors reportedly did not embrace the idea, arguing that a journalism course would not have been beneficial to him in his role as a police officer.
He tried seeking a transfer from Isiolo where he had been posted to Nairobi since he was keen to join the Kenya Institute of Mass Communication (KIMC), but his attempts were not successful, forcing him to resign from the service.
He later joined KIMC, studied journalism, and graduated with a diploma in 2011.
Getting Jobs in the Media
Following his graduation, Muitiriri was lucky to land a job at Hero FM in Nakuru where he served for three months.
His major breakthrough, however, came in 2013 when he was selected by Radio Maisha to serve as a temporary replacement to Anthony Ndiema who was on leave.
His role at Standard made him a household name and further opened doors for bigger roles in the industry such as serving as a presenter at Inooro TV - a position he held until 2018.
After his stint at Inooro, he joined Switch TV in 2020 as a news anchor and served until December 2021, when the company restructured and did away with the broadcast section.
Immediately after leaving Switch, he got a job at TV 47 as a Swahili new anchor and served for six months before he was poached by NTV.
He is currently serving as an anchor at NTV and was recently among a group of journalists that interviewed President William Ruto during his media roundtable at State House Nairobi.
Muitiriri encouraged young people to give their best in pursuing their dreams, arguing that the road may be bumpy, but if you give it your best shot and earnestly work towards it, then you'll surely get there.