Mtwapa town at the Kenyan Coast is arguably one of the most loved entertainment spots and holiday destinations by Kenyans, judging by reviews and comments online.

Mtwapa offers a wide range of entertainment activities ranging from amazing scenes to nightlife that is second to none.
Cognizant of this, hoteliers and other investors have pitched camp in the area developing unique spaces in a bid to stand out in the competitive and lucrative market.
One entrepreneur who has stood out is Calu Odhiambo- the founder of Jambo Cruise; a floating restaurant located along Mtwapa Creek.
Unlike other restaurants, the Jambo Cruise offers a unique experience where you have your meal and can later engage in water sports as the facility provides visitors with life jackets and other necessary essentials.
Some of the water activities guests get to enjoy include; kayaking and surfing among others.
According to Odhiambo, they offer a unique experience to clients, and once at the reception, customers are always given life jackets.
In terms of food, the restaurant's menu has a wide variety ranging from sea foods, several international delicacies to normal Kenyan meals, thus ensuring that everyone is catered for.

In terms of cost, the facility has packages ranging from as low as sh500. This is mainly targeted toward local tourists who form a huge percentage of the target market.
Payment has been done easier as you can pay using mobile money or card, thus no need to walk around with cash.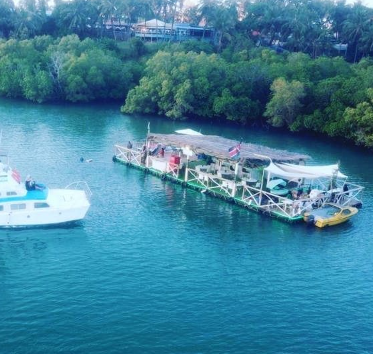 File image of Jambo Cruise floating restaurant in Mtwapa. [Photo: Courtesy]
Starting Jambo Cruise
Explaining what pushed him to start the business, Odhiambo - a marine engineer said having stayed in Sweden for over a decade, he wanted to came back with a unique idea that would showcase what he had studied abroad.
"I was looking forward to giving Kenyan tourism a unique venture, especially people who visit the Coast region," he said.
According to Odhiambo, setting up the project was an expensive affair as he had to import some equipment.
He further notes that getting relevant approvals was also a daunting task since the investment was a pioneer in the industry.
After setting up the establishment, Odhiambo notes that he also incurred a huge sum of money in marketing especially online.
Currently, the facility does not have accommodation services, but that is one of the opportunities that Odhiambo is looking into as part of future expansion projects.
The cruise is ran by a team of ten members who are highly trained, with Odhiambo noting that at all times, the safety of the client is the main priority.
Some of the measure put in place to ensure customers have a good time include; security guards and divers who are on standby at all times to help in case of any emergencies.