Reverend Canon Sammy Wainaina, the Provost at All Saint Cathedral, has made headlines on several occasions owing to his sermons and statements on various political happenings in the country. 
Rev Wainaina is known to take politicians head-on depending on what they have dome or said.
In this article, we outline Rev Wainaina's background and share some of his statements that have gone viral across the country.
Rev Wainaina Education and Background
Not much is known about his early life. However, according to information on the All Saints Cathedral website, he holds a Diploma in Divinity from St Paul's Theological College in Kapsabet.
He also holds a degree in Divinity from St Paul's University in Limuru, a MSc degree in Education and Training for Development from Reading University in the United Kingdom, and Doctor of Ministry from Asbury Theological Seminary in Kentucky, United States.
Rev Wainaina Family
According to All Saints Cathedral, Rev Wainaina is married to Beatrice Waithira. They two have been married since 1997 and are blessed with three kids namely; Joan Wairimu Kizz Pat Wanjiku and Victor Wainaina.
Rev Wainaina's Journey in the Ministry
He was ordained in 1996 in Nakuru Diocese and has been in the religious ministry for over 25 years, serving in different capacities.
Some of the positions he has held include; vicar, Archdeacon, Assistant Provost, and the Provost - a position he assumed in 2013 and is still serving to date.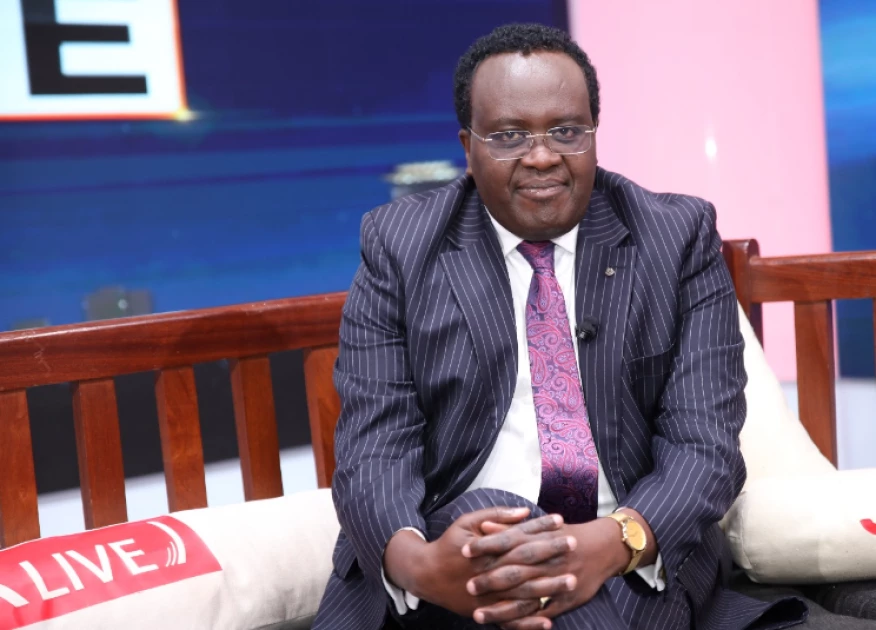 File image of Reverend Canon Sammy Wainaina. [Photo: Courtesy]
Rev Wainana Going Viral over January 2021 Sermon
The clergyman is known to be bold and opinionated, especially on matters of public interest.
In January 2021, he delivered a sermon criticising then Head of State Uhuru Kenyatta over increased corruption in the country, where Sh2 billion was reportedly being looted daily.
"Mr President thank you for the confession that we are thieves minus opportunities. Mr president you have every government machinery at your disposal, either the government knows who steals Kenyans' money or the government is part of the stealing," he said.
"Mr President, are you telling Kenyans that you are defeated? Who will then save Kenya from self-destruction if the President cannot? No wonder we have become a nation of thieves where everyone wants to become a politician," he added.
In the same sermon, he preached against the hustler-dynasty narrative and criticised the Building Bridges Initiative (BBI) that was being spearheaded by President Kenyatta and former Prime Minister Raila Odinga.
"We have money for BBI yet we don't have the same to build schools as our children learn under trees. If you can't give 15 percent, how will you give 35 percent?" the provost posed.
The sermon went viral and made him a topic of discussion on social media, with a section of Kenyans applauding him for "speaking truth to power".
Rev Wainaina Trends on Social Media over Criticism of Kenya Kwanza Government
On 15 February 2023, Rev Wainaina set social media ablaze when he criticised Kenya Kwanza administration over what he termed as "religious excessiveness".
He took issue with a series of prayer rallies and thanksgiving services graced by President William Ruto and other senior government officials in various parts of the country, arguing that political rallies were being disguised as religious events.
"The ongoing 'prayers' rallies are not genuine. They are political meetings disguised as prayer meetings. Unfortunately, the church has been hoodwinked. Pastors and bishops are political brokers on hire by the political class. They are on their payrolls. A very sad state of the church. The salt has lost its taste, and the light its brightness," he was quoted.
Appearing on JKL Live, the provost also addressed the raid conducted on the home of former Interior Cabinet Secretary Fred Matiang'i, stating that the rule of law and appropriate channels ought to have been used.
"If there is something wrong that the former CS did, we are a country that is governed by law. Just follow the due law. If it's searching his home, you can do that within the defining of the law. If it's arresting, you can do that. But why the harassment?" he opined.
These are just two of the popular pronunciations that have seen him trend in the country. The clergyman believes in speaking the truth regardless of the consequences.