In September 2016, former United States Ambassador to Kenya, Michael Ranneberger made headlines after he paid dowry for his wife Ruth Konchella in Transmara West, Narok County. 

Ranneberger who served as US Ambassador to Kenya between 2006 and 2011 officially paid his dowry in 2016, although he had been living with his wife since 2006. 
Speaking during his farewell party in 2011, Ambassador Ranneberger opened up on how he met Ruth, noting that he had travelled to Trans Mara for an event and was impressed by how she articulated women's issues.
"While attending a women's rights event in a small village of Enossen in Trans Mara I was impressed by the way she talked on behalf of women. I took notice….She is a wonderful, compassionate, intelligent, and sweet person," Ranneberger said.
After the event, the ambassador said that they exchanged contact and built their relationship overtime, adding that there are those who thought it would not work out.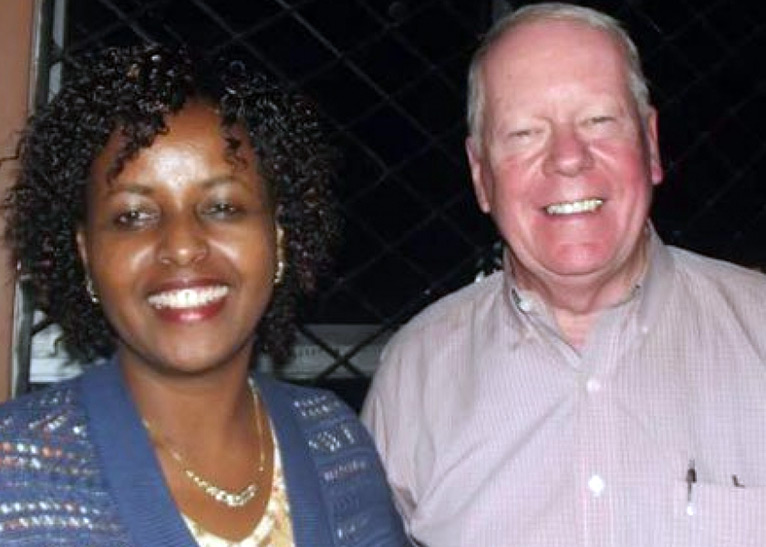 File image of Ambassador Ranneberger and his wife Ruth Konchella. [Photo: Courtesy]
While paying dowry, Ambassador Ranneberger apologised to the family for waiting a decade before undertaking the exercise, arguing that his duties at the embassy made it difficult for him to undertake the process.
To affirm his love and commitment to the relationship, he bought 20 cows, which is 12 more than what is required in the Maasai culture. 
"I was told eight. But because she is an exceptional lady, I decided to give out more," he was quoted.
Like any other dowry payment ceremony, Ambassador Ranneberger noted that he had to dig into his pockets as cow traders hiked prices owing to his race and status.
"They hiked the prices because they saw a white man. It was really difficult to negotiate a favourable price," he opined.
Following the ceremony, Ruth's father appreciated Ranneberger, stating that he had met the traditional requirement and was now duly married to his daughter.
"Their marriage is now sealed and we have officially given Ruth to him," Mr Konchella said.
After the ceremony, the two moved to the United States where Ranneberger is involved in private consultancy.
Ranneberger's tenure as ambassador was difficult as he took over office when the country was headed to the disputed 2007 general election. 
He was part of the team that pushed for dialogue after the polls that saw the country plunge into chaos where over 1,000 people lost their lives.
Eventually, Kenya had its first coalition government with the late Mzee Mwai Kibaki serving as President and Raila Odinga as Prime Minister.