State House Kenya is the country's official center of power as it hosts the Head of State and his staffers (senior government officials). 

All communications from the President originate from State house through an officer named State House Spokesperson.
To ensure easy dissemination of information, most communications are done digitally via State House's official social media accounts.
Being the official channels for sharing communication around the president, one would expect that all State House pages follow the president, his deputy, and other senior officials like the State house Spokes person, but that is not the case.
On Facebook, State House only follows two pages - Evans Kidero and Office of the First Lady.
Kidero is a former Nairobi Governor and was recently appointed the Chief Administrative Secretary in the Ministry of Trade and Industrialization. 
On the other hand, the Office of the First Lady is an official page that provides communications regarding activities being undertaken by First Lady Rachel Ruto.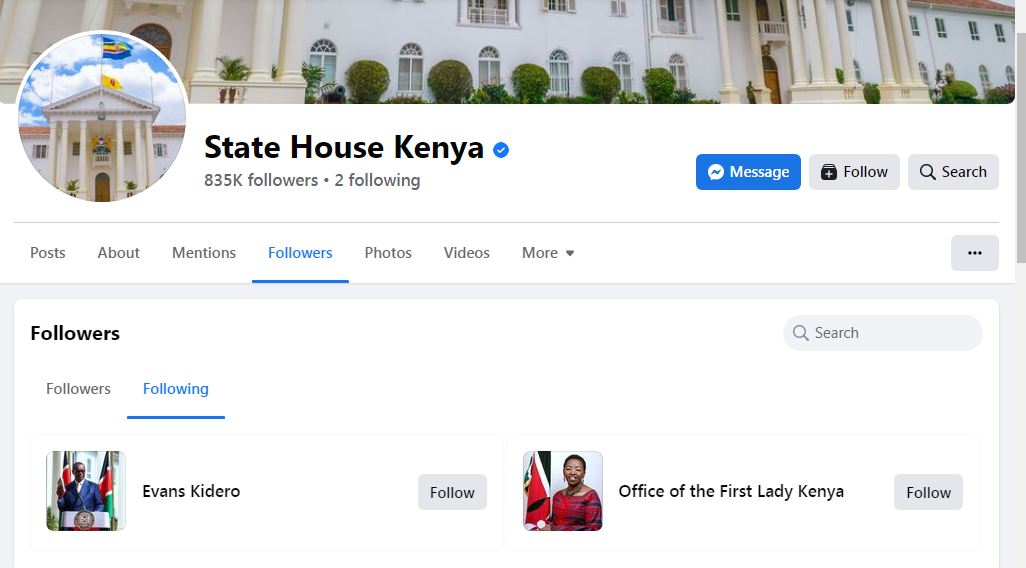 A screen grab of the two pages followed by State House Kenya as at 7 April 2023. [Photo: Courtesy]
Interestingly, on Twitter, State House Kenya follows 222 accounts which include; leading media house, corporates, senior government officials, and other influential persons in society.
According to its transparency information section, the page was created on 8 April 2013 and has not had any name change since.
The page was created after former President Uhuru Kenyatta took over power from the late Mwai Kibaki following his victory in March 2013 election.
Having been elected under the Jubilee coalition, Uhuru and his then deputy William Ruto vowed to digitise government system and started with streamlining communications from State House, which is how the page came to be.
It is not clear if the page unfollowed some accounts after Uhuru's exit from office.