Over the past few years, the number of reported bank robberies has drastically reduced in the country owing to increased security in terms of surveillance and officers manning banking facilities.
In the late 90s and early to mid 2000s, bank robberies were more frequent in the country with millions of shillings being reported missing.
In this article, we review some of the bank robberies that shook the country and left many surprised:
1. 1997 CitiBank Heist
In January 1997 a man named Charles Omondi disguised himself as a CitiBank employee and walked into Kenya Airfreight Handling Limited offices at the Jomo Kenyatta International Airport and picked a parcel with foreign currency that was estimated to be worth Sh54 million.
Back then, the bank would order foreign currency from abroad and it would be sent inform of a parcel, after which an employee of the bank would pick it from the airport after it arrived in the country.
It is not clear how Omondi knew about the parcel, but he had documentation that he used to convince the freight company to hand him the cash.
He later disappeared prompting security agencies to issue a Sh1 million reward for anyone with information that could lead to his arrest.
He was later arrested in BuruBuru with reports indicating that he had initially fled to Tanzania. Omondi was jailed for three years after which he was released in 2002 through a presidential pardon.
2. Singing Gang Invades Mashreq Bank along Kenyatta Avenue
The 1999 Mashreq bank robbery will go down in history as one of the most hilarious and daring heists in the country.
On July 1, 1999, a group of armed robbers invaded the bank that was located at ICEA building along Kenyatta Avenue and walked away with around Sh500,000. Back then, this was a huge sum of money.
What made it hilarious was that the robbers were so comfortable that they sang a common tithing song as they robbed customers in the bank.
"Toa ndugu, toa dada ulichonacho wewe," the robbers were reported to have sung the song while conducting the heist.
A month later, the bank was again hit by a gang that sang similar hymns to the one above. In August 1999 hit, Mashreq Bank reportedly lost Sh9 million.
3. Othaya Equity Bank Heist
In October 2015, a group of men disguised as auditors from Equity Bank's head office walked into the Othaya branch and took away cash estimated to be around Sh30 million.
Media reports indicate that the men walked into the bank and were ushered in by the operations manager, but shortly after they pulled out knives, pangas and demanded to be taken to the safe room where they stole the cash and fled.
Several suspects including three university students were arrested in charged in connection with the heist.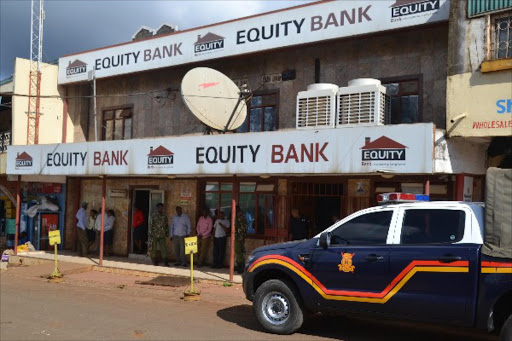 File image of Equity bank Othaya branch. [Photo: Courtesy]
4. Barclays Bank Eastleigh Robbery
In January 2012, Barclays Bank Eastleigh Branch lost around Sh54 million after it was robbed by a group of three men.
The robbery happened on a weekend where it is suspected that Sh34 million was stolen on the first day of the robbery and 19 million on day two.
Police suspected that the robbery was an inside job and arrested over 10 suspects. An undisclosed amount of money was recovered by the police.
5. KCB Thika Branch Heist
In November 2017, a group of robbers dug a 30-meter tunnel and made their way into KCB bank's strong room where they walked away with cash estimated to be around Sh50 million.
The robbers reportedly dug the tunnel from a stall near Thika divisional headquarters.
While investigating the heist, police arrested three men after 17 million which was stolen from the bank was found inside a room they were residing in Juja, Kiambu County.
The KCB Thika branch heist was dubbed one of the greatest bank heists in the history of the country.
Other heists that shook the country include; Sh27 million Equity bank Kayole branch robbery, 2018 Habib Bank AG Zurich's Koinange Street branch robbery, and the 1997 Sh96 million Standard Chartered bank robbery among others.