Franklin Mark Gogo alias MC Gogo is arguably one of the leading emcees/hyper men in the country thanks to his creativity, awesome word play, and massive energy on set. 
MC Gogo took over the entertainment scene in 2020 when Covid-19 hit and had people staying indoors.
In this article, we review MC Gogo's journey to being Kenya's leading hype men; 
Early Life and How He Started Emceeing
He is a native of Nairobi County having been born and raised in Dandora.
Not much is known about his early life, but he has previously indicated that he went to Kenyatta University where he studied Counselling and Sociology.
Being a psychologist by training, many have been wondering how he got into the entertainment scene. Speaking during a past interview, he noted that being an entertainer was not part of his long-term dream.
However, one day an opportunity to emcee arose in church and he took it, marking the beginning of his entertainment career.
The feedback he received after his debut performance prompted him to seek more opportunities to emcee. He was invited to perform at community events, but like most young artists, he was not paid for the shows he graced.
MC Gogo, however, utilised the opportunity and build his craft in readiness for a big breakthrough.
MC Gogo's Major Breakthrough
In 2020 when Covid-19 hit, MC Gogo and his team suffered a blow as it meant that they could not have shows due to the containment measures put in place by the government.
However, this was a blessing in disguise as it prompted them to explore alternative ways of producing content and entertaining their audience virtually.
It is at this point that MC Gogo and DJ friends decided to do a Facebook Live. The idea was good, but they lacked space and had to approach a friend who agreed to host them.
The Facebook live shows made him popular across the country, but what blew him up was his TikTok videos particularly one where he used the phrase "Umeachwa mara saba na huja kufa" the clip went viral gaining over 500,000 views in one day.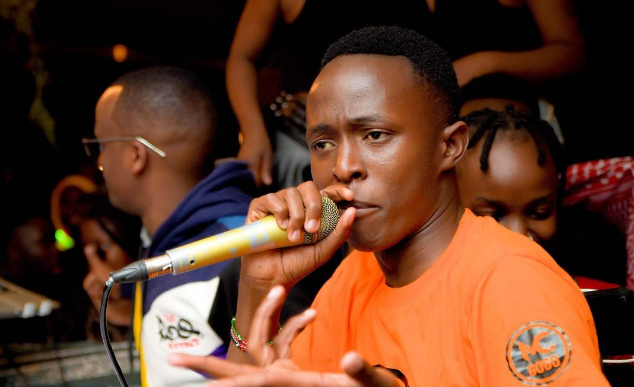 File image of MC Gogo. [Photo: Courtesy]
"I look at my phone and it's blowing up; I got notifications after notifications. I look at the video I had uploaded and it had over 20,000 views in an hour. In two hours, the video was already at 150,000 views. By the end of the day, the video had 500,000 views," he said.
MC Gogo Post-Covid
As the world opened up post-Covid, MC Gogo had built a name for himself and started getting shows, wedding gigs, and club events.
His amazing word play, coupled with his massive energy on set has set him apart as one of the best in the industry.
Today, he is one of the most sought after MCs in the country with reports indicating that he can make up to Sh 100,00 from an event.