The growth of Kenya as a regional economic hub has seen multinational organisations and top global investors set up establishments in the country. 
This necessitated the need for learning institutions that offer international curriculum and quality education. In Kenya for example, a number of prestigious international schools that have created a name for themselves as centres of excellence.
In this article, we outline some of the prestigious international schools and their wealthy owners.
1. Makini Group of Schools
The Makini Group of Schools was founded by the late Pius Okello and his wife Mary Okello in 1978.
The school started with 8 students and has since grown, with reports estimating that it has over 3,000 students and eight branches located in Nairobi and Kisumu. 
Mary - an established entrepreneur and the first African woman to be a Barclays Bank branch manager has been the force behind the school.
After 40 years of running the school, Mary signed a deal with Advtech - a South African company and Schole Limited- an investor based in the United Kingdom, handing them the management of the institution.
She sold 71% percent stake in Makini group of schools in a deal estimated to have earned her around Sh1 billion.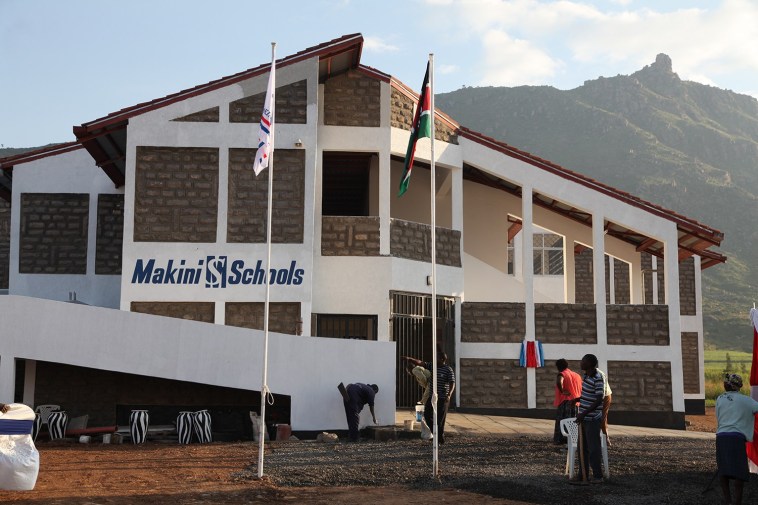 File image of Makini School. [Photo: Courtesy]
2. St Andrews Turi
The school was established in 1931 by the Levet family specifically Peter and Jean Lavers.
Located in Molo, Nakuru County, the school was started with the aim of providing education to the children of Europeans who had settled in the Rift Valley region.
In the 1970s, the school opened its doors and enrolled the first set of African students, after which it expanded and set up a secondary school to cater for graduates from the junior school.
St Andrews Turi has since grown to become one of the leading international schools in East Africa with an enrolment of over 600 students.
Information on its website indicates that the founders Peter and Jean set up the school in order to inculcate religious teaching and Christian love and care to the students.
At the establishment, Jean handled the academic and pastoral needs of the students while Peter focused on administrative duties.
3. Woodcreek School
It was established by Peter Karoki in 2018.
Karoki decided to invest in a school after closely following the education journey of his daughter, noting that he was not happy that she'd be picked very early in the morning, despite being a primary school student.
The desire to establish a school was also motivated by the need to provide quality education.
The school sits on a 30-acre piece of land along Kiambu-Ruiru road and has a capacity of over 200 students.
It offers the International General Certificate of Secondary Education (IGCSE) and has limited the capacity of all its classes to 15 students.
The school has kindergarten, primary, and junior high school, with the fees ranging from Sh93,000 to Sh315,000 per term depending on the class.
4. Riara Group of Schools
The Riara Group of School was established by Daniel and Eddah Gachukia in 1974.
Information on its website indicates that the school which has six branches as established with the sole purpose of developing a whole learner in a system that goes beyond the conventional classroom and syllabus-based learning.
Mr Gachukia Mr. Gachukia is a former diplomat and a distinguished educationist having served as a secondary school teacher and taught in several institutions including; Kagumo High School, Thika High School and Namilyango High School in Uganda.
Eddah is also an established educationist and has served as Vice Chancellor Moi University among other roles.
After over 40 years of running the venture, the Gachukias sold a 22.32% stake in Riara Group of Schools to Actus Equity - therefore handing it controlling rights.

File image of Riara Springs Primary School. [Photo: Courtesy]
5. Peponi School
The school is located along Thika Superhighway in Nairobi and is associated with the Kenyatta family.
It sits on the Kenyatta family-owned Northlands City farm in Ruiru.
Peponi School was established in 1989 and offers the British curriculum with its fees estimated to be slightly over Sh1 million per term and 3 million per year.
Some of the traits that have made the school one of the leading premium international schools are its extra-curricular activities that include; karate, chess, taekwondo, pottery, and trampolining.