Trans Nzoia County is among the few devolved units that got a new governor and senator in the August 9, 2022, general election.

Former Rift Valley Regional Commissioner George Natembeya was elected Governor while youthful politician and businessman Allan Chesang was elected Senator.
In this article, we outline the story of Chesang, focusing on his educational background, business investments, political journey and scandals linked to him.
Early Life and Education
He was born at Matano Village in Trans Nzoia County and had his early education at schools around the area.
He did his high school education at St Anthony's Kitale, but, later moved to Musingu High School in Kakamega County where he finalised his secondary education.
Allan is an alumni of Moi University where he graduated with a Bachelor's Degree in Commerce. After leaving Moi, he joined the University of Nairobi for a Master's Degree in Political Science, but it is not clear if he has completed his studies.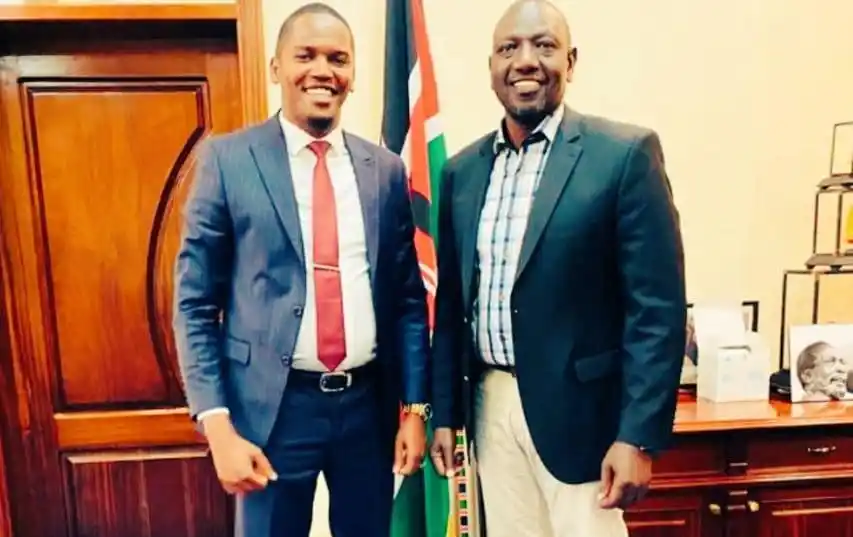 File image of Trans Nzoia Senator Allan Chesang and President William Ruto. [Photo: Courtesy]
Business Life and Making his First Million
His flamboyant lifestyle began while he was in high school thanks to his immense table tennis playing skills. His great talent saw him join the national table tennis team in 2003 when he was in form one.
Later, that year, he represented the country at a competition in Congo Brazzaville and won a Sh1 million cash prize, making him a millionaire.
His fortune did not end there as he later joined a French table tennis club where it is alleged that he'd earn upto Sh2 million per week. It is this money that he reportedly used to invest in his father's insurance company which marked the beginning of his journey in the business world.
His table tennis engagement with the club ended after he completed high school, but by then, his investment in his father company had yielded some returns which he used to start 'Vijana Amani Pamoja'; an organisation which championed peace in Mt Elgon region as the country prepared for the 2010 referendum.
Thanks to the organisation, he was able to partner with agencies such as USAID which funded their activities. 'Vijana Amani Pamoja' was his first pioneer project. After its successful debut, he decided to try his luck in other business ventures which bore him great returns and made him a respected businessman in the country.
To date, Chesang has invested in the entertainment industry and has a number of clubs including; the Kraft lounge in Westlands. He has also invested in the water purification business, clearing and forwarding and LPG among others.
Scandals
He is accused of being involved in a fake Sh181 million laptop tender at the office of former Deputy President William Ruto. Chesang and six others were accused of forgery and intend to defraud the public.
They were accused of committing the illegal acts between May and August 2018. The case is ongoing at the Milimani Law Courts. The next hearing is set for October 12, 2022.
Political Journey
In 2017, he made his political debut and contested for Kwanza Parliamentary seat, but he was unsuccessful. He mobilised and made a comeback in the 2022 general election where he was elected Trans Nzoia Senator.
He is currently one of the youth legislators in the country. Young people across the nation are looking up to him and other youthful legislators to champion their agenda in the Senate and Parliament at large.