The Kenyan Judiciary has been undergoing a digital revolution, with the aim of improving efficiency and enhancing transparency.

Some of the methods adopted by the judiciary include livestreams on their social media pages and regular posts including photos of what key judicial officers have been up to.
One of the key players in the digital transformation is Zakheem Rajan; a senior journalist and renowned photographer who has worked with three Chief Justices namely; Dr. Willy Mutunga, David Maraga, and now Lady Justice Martha Koome.
Rajan is one of the members of the judiciary's communication department, with his main obligation being to cover key Judiciary events, with the photos and video clips being shared on his page and on the official Judiciary social media pages.
Some of the high-profile events he's covered in recent weeks include; 2022 presidential election petition where he took spectacular images that elicited massive reactions and praise on social media.
He also covered the inauguration ceremony of President William Ruto that was attended by CJ Koome, Deputy Chief Justice Philomena Mwilu and other senior judicial officers.
But who is Zakheem Rajan?
Not much is known of his early life, however, he originates from Lamu County, where he is believed to have undertaken his initial education.

Rajan's journey to the Judiciary


His journey to being a senior communication practitioner at the judiciary has not been a walk in the park.
After completing his high school education, he took a job as a food vendor where his main duty was to prepare and serve Nyama coma to customers in the streets of Mombasa.


He later ditched the streets after securing a job as a waiter in one of the hotels in Mombasa.
According to Rajan, working as a waiter gave him the opportunity to interact with prominent personalities including former Mombasa Governor Hassan Joho, who was then seeking a Parliamentary seat.
"People wanted to know about my journey, 1st photo is 14yrs ago when I worked in a Restaurant in Msa near Agakan. Gov Hassan Ali Joho would frequently come as he was vying for MP, I would serve him Chai & mandazi. Years later, we met at the Supreme Court where I work. God is in control," Rajan tweeted.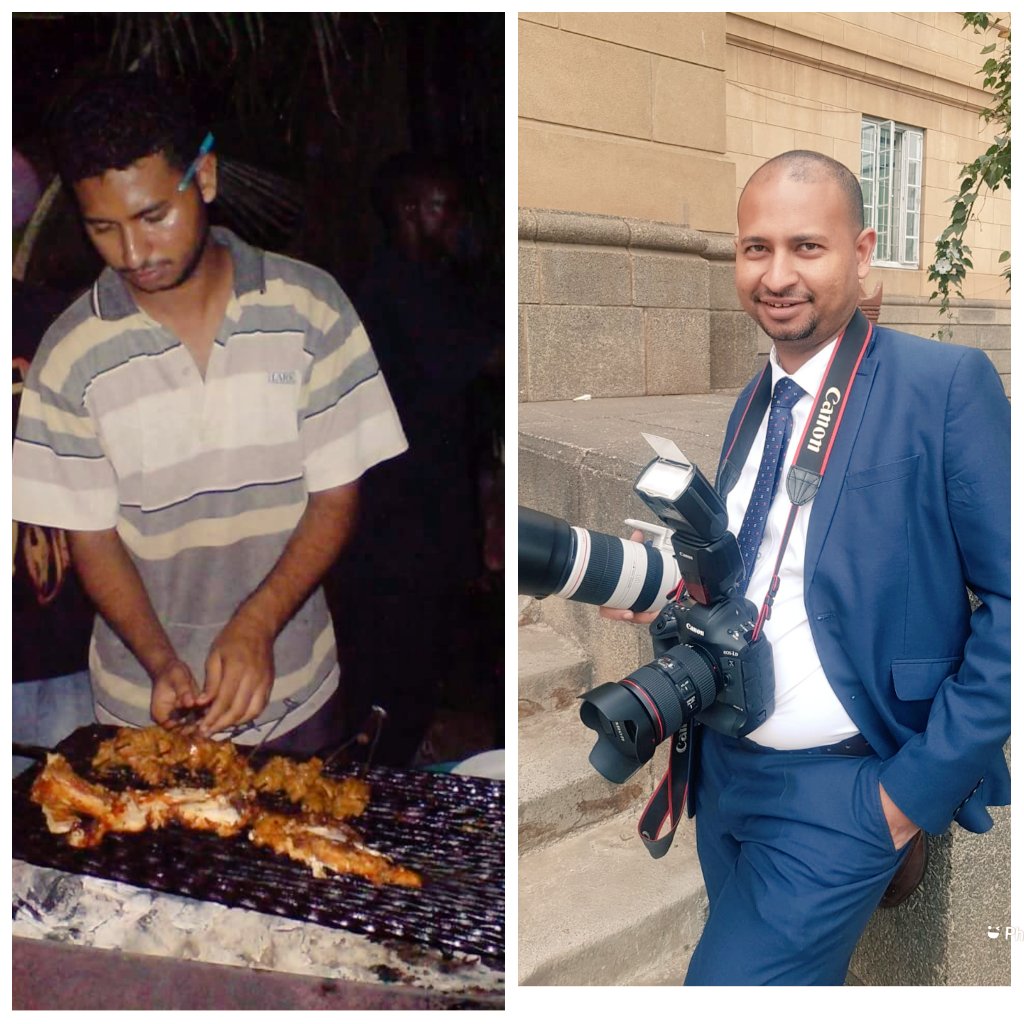 Collage photo of Judiciary's top photographer Zakheem Rajan. [Photo: Courtesy]
Although he is yet to document and share his full journey, his breakthrough came when he secured a job at the Judiciary as a photographer.
He notes that one of his early assignments was working with CJ emeritus Dr. Willy Mutunga, who he says was not a fan of photographs.
"The first time I met Mutunga is when I was asked to photograph him with a five-judge CoA bench that had just delivered a landmark judgment on boundaries (IEBC), I had a very small toy like camera & the CJ looked at me like, picha ni ya nini, the rest is history…," he posted.
He later worked with CJ emeritus Maraga and current CJ Justice Koome, with one of his major milestones coming in July 2022 when he was awarded a Head of State Commendation (HSC) by former President Uhuru Kenyatta.


"We give thanks to the Almighty. I thank you all for your msgs of goodwill, I am not able to respond to each, I am humbled friends. For the record, it shall be known that I come from Lamu County. What an honour to be awarded the HSC, watu hutoka mbali, Mungu tu!" he tweeted.
Today, Zakheem has grown in his role and is one of the journalists and communication practitioners that most young Kenyans look up to.
He uses his social media platforms to consciously inspire and encourage young Kenyans that everyone is capable of achieving their goals in life, provided they have the right attitude and put in the work.
Zakheem is currently a member of the Public Relations Society of Kenya and the Foreign press Association, Africa (FPAA).
At FPAA, he helps covers Kenyan judiciary content for the foreign press.


Rajan the Altruist
Through his career at the judiciary, Rajan has been hailed as a humble person who is always ready to help those in need.


This has been documented in several instances including during the 2022 presidential election petition, where he decided not to watermark his photos so that they could be easily accessible to all interested persons, who did not get access the court venue.
Additionally, he recently offered to help pay admission fees to prospective advocates who were unable to raise the money but had been gazetted for admission to the bar.

"To the 350 newly gazetted upcoming Advocates of the High Court of Kenya, If you genuinely don't have Ksh1000 Admission Fee, talk to me on DM, I can ask my employer to deduct 5k from my salary to pay for 5 people," he tweeted.

These are two among the many acts of kindness he's shown t the judiciary. To many, Rajan's story is an inspiration and a source of hope that your past and or current happenings does not necessarily define your future