In the African political scene, it is often assumed that prominent politicians have a son or daughter that they are grooming to takeover from them when they retire or decide to exit the political scene.

While this was the case in the past where politicians such as Musalia Mudavadi, George Khaniri, and others inherited seats left by their deceased fathers, a new trend is being witnessed where children of prominent politicians are chatting their own paths away from politics.
In this article, we are reviewing some of the successful companies created and being run by children of prominent Kenyan politicians.
Ian Waiguru
He is the son of Kirinyaga Governor Anne Waiguru. Ian is a successful entrepreneur and founder of an IT company dubbed Something Inc.
The company focuses on software development and other technological issues.
Something Inc also houses two of Ian's other projects; Kadi and Lion Arts. Kila Kadi is a business card replacement app while Lion Arts is a creative writing and illustrative publishing venture.
Davidson Wakairu Gatuhi alias Bragga
Davidson Wakairu Gatuhi is the son to Jubilee Party Vice Chairman David Murathe. Bragga as he is popularly referred to, has made a name for himself away from his father's fame. He is a budding politician, businessman, and environmental activist.
He was born on June 6, 1992, and holds a Bachelor of Arts degree in Marketing and Advertising from Marbella International University Centre in Spain.
Bragga owns and runs various companies with different interests; Davidson Wakairu Gatuhi (DWG) Holdings and DWG Wines. Both companies market and promote wines.
He owns a company called Czara Events under DWG Holdings which majors in organizing events. I
n 2016, he founded a Non-Governmental Organization (NGO) dubbed Vijana Amkeni meaning "Youths Rise Up". It aims at the empowerment of young people across the country; politically, socially and economically.
"I saw the need to begin a movement that brings youth together to voice issues and be involved in national affairs. We use social media to mobilise each other," he said during an interview on Switch TV in 2019.
The NGO also majors on environmental conservation. They have planted over 250,000 trees in various counties in Kenya and aim to plant 47,000,000 trees by end of 2022.
Rodgers Kipembe Mpuru
Commonly known as the Secretary-General of the National Ordinary Peoples Empowerment Union (NOPEU) Party, Kipembe is the son of Tigania East Member of Parliament, Lawrence Aburi.
He studied at Moi Forces Academy and later proceeded to the Catholic University of East Africa (CUEA) where he graduated with a Bachelor of Laws degree.
He began his entrepreneurship journey with a car wash in South B immediately after completing his university studies. He used the proceeds of the business to establish other car wash ventures in different parts of Nairobi.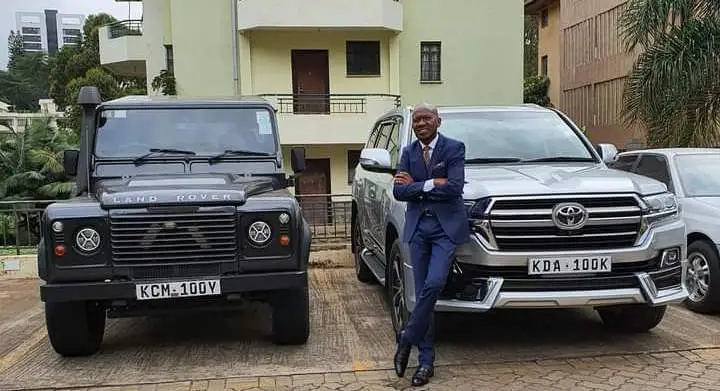 File image of businessman Rodgers Kipembe. [Photo: Courtesy]
He later opened a salvage yard called Rodgers Place in South B. The yard sits in a one-acre piece of land and accommodates over 200 wrecked salvage vehicles.
A part from the two businesses, he also owns a microfinance company dubbed Wema Tosha that targets and empowers business people and farmers through loans and agribusiness projects. Wema Tosha has 10 branches across the country.
He is also a media owner thanks to Meru TV and Theuri Fm that broadcasts in the Ameru vernacular language.
Ngina Kenyatta
She is the daughter to former President Uhuru Kenyatta.
In may 2018, she unveiled a breathtaking restaurant dubbed the Green Experience located Lari, Kiambu county.
The launch was attended by among others, KICC chief executive Nana Gecaga who showered praises to the establishment.
"So yesterday I got to be part of #TheGreenExperience which is an afternoon spent at a breathtaking location where you are first educated and able to sample all the special varieties of teas now being grown in Kenya…then treated to a 5-course meal each paired with a specific wine (for those of you that don't drink you have wonderful juices and other beverages)," she posted.
"The food is prepared by one of Kenya's newest and hottest chefs to hit the market and the host who looks after you is again one of Kenya's latest architectural designers who has not held back on attention to details and your surroundings," she added.
Ngina who holds a degree in International relations and politics is also a Director at the Kenyatta Trust; an organisation that supports vulnerable children to get an education.
The Odingas


Former Prime Minister Raila Odinga's three children, Rosemary, Raila Jnr and Winnie Odinga have all established business activities which they are currently running under their respective companies.


1. Rosemary Odinga
She is a respected snail farmer in the country. Through her company Shelltops Limited, she cares snails and supplies to French restaurants in the country. It is reported that a kilogram of snail meat costs unto Sh2,500, making it a lucrative venture


2. Raila Jr Odinga
He is the founder and CEO of Creative Hub Limited. The company has been in business since 2012 and focuses on media production.
He says he started he started the company after discovering that equipment that was bought for campaigns had been left idle.
His company has previously been involved in providing production services for his father's presidential campaign.
3. Winnie Odinga
She is the founder and owner of BrickHouse Counsel. The company provides consultancy services on brand auditing, digital business, legal advice on establishing businesses in Kenya and monitoring legislation among others. The company was established in June, 2018.