Politics is a game of strategy where a player with ideas and a plan that most resonates to the electorate wins. The plan has to be accompanied by a good communication strategy. 

In the run-up to the 2002 general election, former President Uhuru Kenyatta who was making his first stab at the presidency took cognisant of the importance of language in campaigns and enrolled for private Swahili lessons as his command of the language was wanting.
The former Head of State through former Information Permanent Secretary Wamatu Njoroge recruited Kefa Ng'ang'a; a primary school teacher from Gatundu to help him master the language and craft his campaign messages. 
Speaking during an interview with KBC in November 2020, Ng'ang'a noted that he was allocated one hour every evening to coach Uhuru and help polish his Swahili.
According to him, the task was enormous and quite intimidating owing to the stature of the former president, but he says Uhuru made his work easy as he was ready to learn.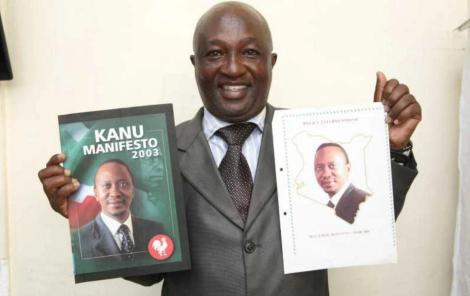 File image of Mwalimu Kefa Ng'ang'a. [Photo: Courtesy]
"Kuelezwa uboreshe mtarajiwa rais sio kazi rahisi na kiwango chake cha Kiswahili sikuwa nakijua kimefika wapi. Lakini, mara ya kwanza nilipoenda Chancery, nlikuta rais mtarajiwa wetu Kiswahili yale ilikuwa chini sana," he told the national broadcaster.
This loosely translates to "Being told to polish a presidential hopeful's Swahili was not an easy task as I did not know how conversant he was with the language. When I visited Chancery for the first time, I established that his command of Swahili was poor."
Determined to learn the language, Ng'anga' said the former Head of State often corrected himself when he erred with his pronunciations or written content.
Ng'ang'a further notes that at the beginning of their sessions, the former President would speak in English after which he would translate in Swahili.
In addition to coaching him, he also prepared statements and speeches which Uhuru used in his 2002 presidential campaigns. He, however, noted that the statements were thoroughly reviewed before being used by the then presidential candidate.
Unfortunately, Uhuru did not win the 2002 presidential election, with Kefa indicating that he lost touch with the former President after the polls.
Uhuru made a second stab at the presidency in 2013 and emerged victorious. His Swahili had, however, improved and was always incorporated in his different addresses to the nation.
According to Ng'ang'a, although he was yet to meet the former President, he is happy that he was able to play a role in improving his Swahili.
"Nikiona akizungumza Swahili napatwa na furaha rohoni (When I see him speak Swahili I feel so happy)," he said.


It was his dream to meet the former President before he vacated office. It is, however, not clear if the meet happened.