President William Ruto has alleged that there was a plot to murder outgoing Independent Electoral and Boundaries Commission chairman Wafula Chebukati during the August 9 general elections.

Speaking on Tuesday, January 17, during the Constitutional Commissions and Independent Offices event at State House Nairobi, President Ruto revealed that some forces in the previous regime wanted to replace Chebukati at IEBC and take over the commission.
"We know that there was a direct attempt to abduct Wafula Chebukati and murder him so that the commission would be paralysed, or a compliant commissioner take over and subvert the people's sovereignty," Ruto claimed.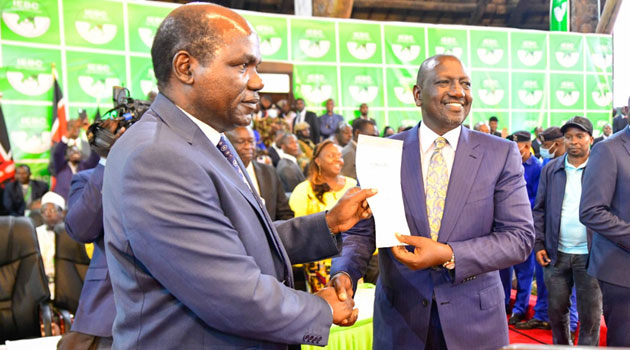 The Head of State also said that Chebukati, commissioners Guliye, Molu, and IEBC CEO Marjan were offered huge bribes and their families threatened.
"We now know that Chairman Wafula Chebukati, commissioners Abdi Yakub Guliye & Boya Molu as well as the CEO, Hussein Marjan, and their staff, were offered stupendous financial rewards to cooperate with the agents of impunity, but they bravely resisted," Ruto stated.
He added, "We also know that they were subsequently threatened with dire consequences for them and their families if they did not do the 'system's bidding and overturn the choice of Kenyans. Again, we know that they stood strong and firmly said no."