Azimio La Umoja leader Raila Odinga has now called for the decentralization of elections management in the oncoming polls.
The former prime minister suggested that having one body overseeing elections throughout the country had made it easy for electoral fraud to thrive.
According to him, devolving elections would be instrumental in arresting the systemic frauds that have been part and parcel of the Kenyan elections.
"Do we need one big electoral body to manage our elections? Or should elections management be devolved to the states, regions or counties as in the case of the United States. My answer to this is yes," said Raila.
Raila also advocated for members of political parties constituting the top brass of the electoral agency.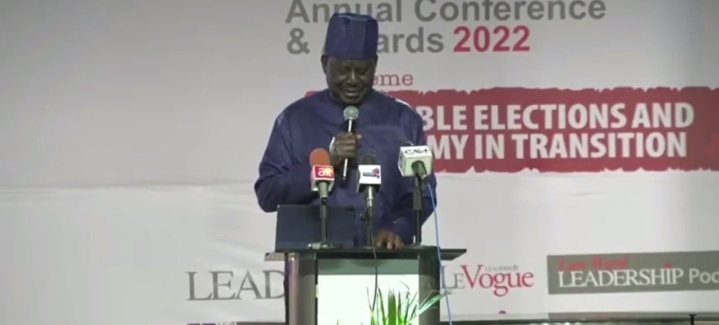 Raila spoke in Abuja, Nigeria at the 2022 Leadership Conference and Awards.
The elections management proposal by the ODM boss mirrors that of the United States of American (USA) where the regions moderate all the important aspects of the election.
He had earlier called out the Judiciary which he claimed had been turned into a cabal of "fraudsters" who connive with politicians to deprive Kenyans of their political will.
Raila has been categorical that the run-up to the 2027 General Election, radical changes must be undertaken in the Judiciary and the IEBC.
"There is corruption, incompetence, and capture of the IEBC. You have noticed the corruption and thuggery of the Supreme Court judges. The words used against us have never been used in our courts even in the dark days of single-party rule," he once said.
He is has been on record pushing for the employment of a full manual electoral system in the coming elections.
In the previous polls held since the promulgation of the 2010 Constitution, the electronic system has been used to complement the manual one.
However, with the hybrid management of the elections, there have been concerns of malpractice every electoral cycle.
Azimio now wants the country to fully revert to the manual system at the expense of the electoral system which the opposition claimed has been misused to rig elections.
While voting is done manually, the electronic bit comes in to complement the manual identification of voters as well as transmitting the results to the national tallying centre.