President William Ruto on Sunday explained an incident in which ODM Leader Raila Odinga was blocked from visiting the Shakahola forest where bodies of alleged cult victims are being exhumed.
Pastor Paul Mackenzie is alleged to have brainwashed his followers to fast so as to meet Jesus. Mackenzie is now in custody.
In an interview with various media houses, the President said it was right for the ODM leader to be blocked.
He said the area is classified as the scene of crime now means it is not open to everyone who is not involved in the probe.
Ruto said Raila is not an expert to warrant his access to the crime scene.
The President went on to say he has yet to visit the place because it is still a crime scene.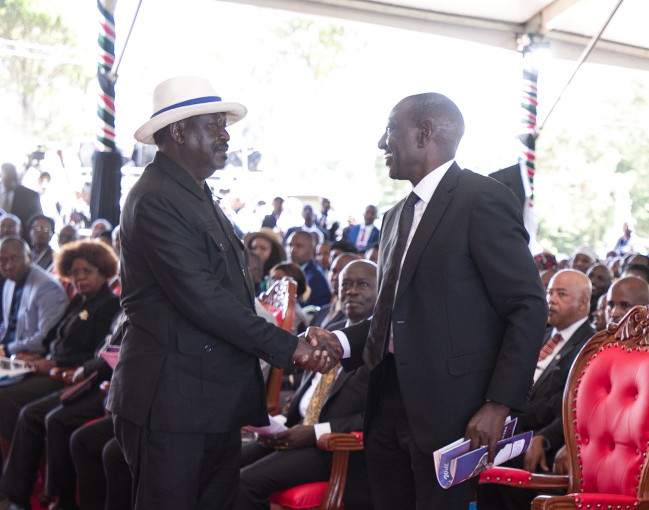 "Hiyo ni siasa. Kuenda Shakahola kwa kiongozi wa upinzani inasaidia nini? Yeye si mjasusi, yeye si askari, yeye si daktari, hajaenda kufanya kazi ya kutoa miili, ameenda kufanya nini? When the place has been declared no longer a crime scene, I will go to Malindi," the President said.
Raila's visit to Shakahola was marred with a drama of some sort after police told him that he was not allowed to access the crime scene.
The security officers declined to allow Raila into the forest with the operation commander asking him to seek permission from the Inspector General.
"I want to access the forest so that I can be able to see the graves, I can't travel all the way and go back without seeing the scene," Raila insisted.
The commander however said that the area has been declared a crime scene and allowing him through could interfere with the ongoing investigations.
"No one is allowed in the forest because the [investigation] process is delicate," said Peter Ndung'u, the senior assistant inspector general of police.