Reverend Sammy Wainaina has revealed how he got the knack and courage to speak truth to power despite him being a cleric.
The clergy is known to have been reserved when it comes to putting the holders of political power to task.
It has however been different for Wainaina.
The outgoing provost of the Nairobi's All Saints Cathedral says he initially feared facing political leaders and posing tough questions to them.
Speaking during his thanksgiving and farewell service on Saturday, May 27, Wainaina revealed that his acknowledgment of the gospel to champion for the people's common good fired him up to start speaking.
According to him, good governance is at the centre of the true gospel of God.
"This place gave me the opportunity to influence the politics of this country. At the beginning I was a fearful provost. I didn't know whether I should talk about politics. But the words of Exodus 3:7 kept talking to me. I heard the cry of my people," he said.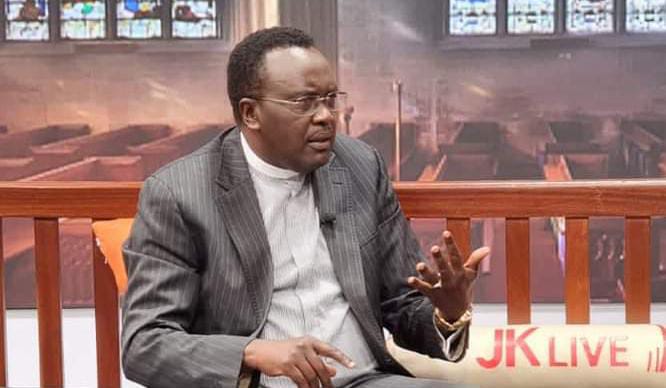 Wainaina at the same time took offence at the religious leaders who choose to side with holders of power when citizens are being exploited.
According to him, such clerics were flouting the provisions of the gospel.
"I don't know which Bible pastors are reading. It talks about politics and governance. At the core of the gospel of Jesus was the liberation of people," he said.
He said it would be of no point for believers to prepare for the coming of Christ while those around them continue to face adversities of life.
"I don't believe in such a theology. I believe in John 10:10, that I have come so that you can have life and in abundance. The church must be involved in setting people free from the shackles that bind them,"
Wainaina who assumed the provost post in 2013 is slated to take up his new position in the United Kingdom.
He was appointed the advisor of Anglican Communion affairs for Archbishop of Canterbury Justin Welby.
To lead the ACK faithful in bidding Wainaina fare well was the church's top cleric Jackson Ole Sapit.
Sapit hailed the outgoing provost for his successful tenure at the church.
He went on to wish Waiana good luck as he embarks on his new post in London.
"We will miss you. All the best in your next assignment,"