President William Ruto has appointed former East African Affairs Cabinet Secretary Phyllis Kandie as his advisor on Commodity Market Development. 
The former CS announced her appointment in a statement on Tuesday, September 19, thanking President Ruto for the role. 
"I would like to thank HE the President for the honour he has bestowed on me to serve as his advisor, Commodities Market Development," Kandie stated.
She vowed to work diligently to ensure the Kenya Kwanza government's vision in the agriculture sector is achieved.
"I undertake to work diligently with all stakeholders to ensure that his vision to streamline the Agriculture sector by setting up a licensed Regulated private sector led National Commodities Exchange that shall link the Farmer to both the domestic and international markets becomes a reality," she added.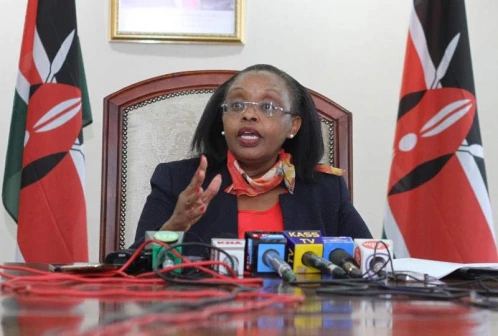 Kandie served in the previous government under retired President Uhuru Kenyatta in the Ministry of East Africa Affairs and Labour from April 2013 to January 2018.
She was then dropped from the Cabinet and appointed as Kenya's ambassador to Belgium, Luxembourg, and the European Union.
Kandie's appointment comes days after her former colleague Charles Keter was appointed as President Ruto's advisor on the Great Lakes Region Affairs.
Keter announced his appointment on Thursday, September 14, and thanked the Head of State for giving him the role.
"With humility, I wish to express my gratitude to H.E the President, Dr. William Ruto for appointing me as his Advisor on Great Lakes Region Affairs. I am deeply honored and grateful for the trust and confidence that he has placed in me by appointing me to this role.
"I am genuinely excited about the opportunity to contribute to the development, prosperity, and stability of the Great Lakes Region under his visionary leadership," said Keter.