President William Ruto has sent a message of condolence to the families of Kenya Defence Forces (KDF) soldiers who lost their lives after the helicopter they were in crashed in Lamu County.

In a statement on Tuesday, September 19, Ruto described the soldiers as heroes for their bravery in defending Kenya's sovereignty.
"Our condolences to the families and friends on the heartbreaking loss of our heroes in the Lamu helicopter crash. We honour their bravery in defending and protecting Kenya's sovereignty. Our prayers are with the Kenya Defence Forces and all those that have been affected by the tragedy, "said Ruto.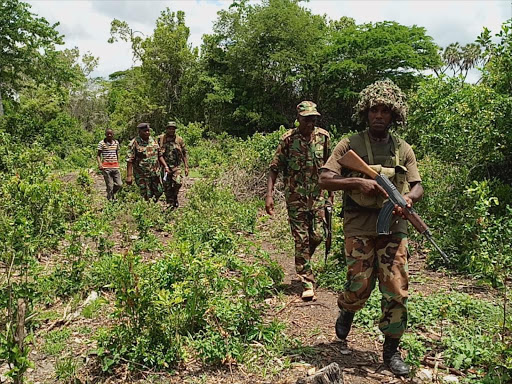 KDF earlier said the helicopter crashed on Monday night while on patrol in Lamu County. The patrol is part of government measures to pacify Boni forest, which has become a hideout of suspected al-Shabaab militia.
"The crew and other military personnel onboard were part of an air surveillance squadron intensifying day and night patrols and surveillance for the ongoing operation Amani Boni," KDF said in a statement.
KDF also said a board of inquiry into the cause of the tragedy has been constituted and dispatched to the scene to establish the course of the crash.
"The leadership and entire KDF fraternity condole with the families of the crew," it added.
The exact number of crew members dead is not known as KDF did not provide the information.