Comedian Eric Omondi has asked Lang'ata MP Phelix Odiwuor, alias Jalang'o, to apologise for choosing to work with President William Ruto. 
The comedian, who spoke to Radio 47 on Friday morning, said the MP owes an apology to ODM Leader Raila Odinga, the ODM Party, the people of Lang'ata, and God.
Omondi while describing Jalang'o as his friend asked him not to quit the MP seat but said he ought to apologise to the people who saw him become MP.
"Naeza advise Jalang'o asibanduke; akae pale plae. Aamke asubuhi, aoge, akunywe chai, aingie kwa gari, aendeshe aende kwa Baba (Raila), apige Magoti na aombe msamaha. Arudi pale maeneo (Lang'ata) aombe msamaha kwa wapiga Kura. Aende kanisani aombe msamaha kwa Mungu. Na ODM party pia," he said.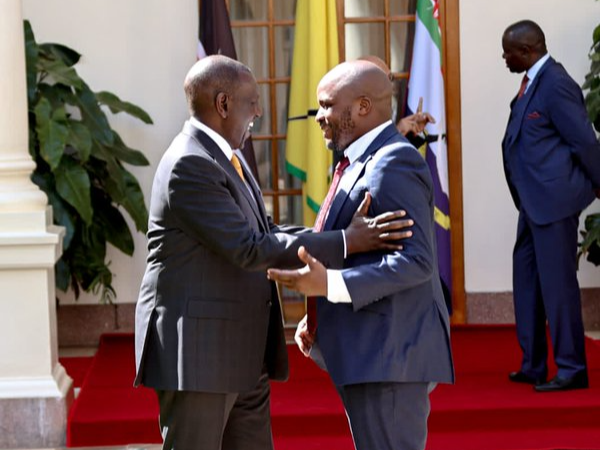 "Asipofanya hivo, Bibilia inasema you shall not prosper. That is the word of God."
Omondi who has been billed as a potential candidate for the Lang'ata MP seat said he is not focused on capturing the seat but hinted that he might consider it in the future if the people deem him fit.
"The voice of the people is the voice of God. It shall be respected when the time comes," he stated. 
The comment by Eric Omondi comes at a time when Jalang'o and five other MPs from the ODM party are having a case at the Political Parties Disputes Tribunal where they are challenging their expulsion from the party.
Others in the case are, Ps Elisha Odhiambo (Gem), Caroli Omondi (Suba South), Gideon Ochanda (Bondo) and Kisumu Senator Tom Ojienda.
The five are accused of advancing the political agenda of the other political parties contrary to the law.
The five secured orders barring their suspension from the ODM party pending the hearing of their case.