Roots Party Presidential running Mate in the just concluded General Elections Justina Wamae has disclosed that she fell out with her parents because of her support for her candidate George Wajackoyah.
Wamae in an interview with TV47 on Wednesday noted that her endorsement of Wajackoyah's pledge to legalise marijuana severed relationship with her parents who she said are staunch Christians.
Her parents fellowship at the Presbyterian Church of East Africa (PCEA).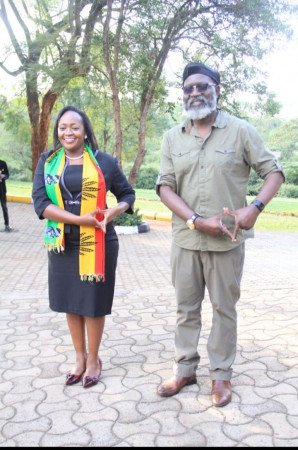 She said most of her relatives were against her decision to be Wajackoyah's running mate so much so that she had to bully her way.
"Do you know I fell out with my parents at the beginning of all this? If I listened to my parents, relatives and friends, I would not have become a running mate," she said.
"I had been discouraged from smoking. You know my father is a choir member. It affected me and has been a struggle. At some point, I was not talking to my parents."
Wamae noted that she was able to restore their relationship during the deputy presidential debate where she said she has never smoked bhang and will never.
"During debate, I just asked my parents and relatives to give me the chance to convert them and the whole country. I had to perform for my parents, relatives and friends," wamae noted.