Deputy President Rigathi Gachagua on Thursday delivered a keynote address at YouthConnekt Summit in Rwanda together with the host President Paul Kagame.
His attendance at the function saw him flanked by a number of youthful Kenyan MPs, presumably to pass a message of how Kenyans value youthful leadership.
While unveiling a group of youthful MPs who had accompanied him, Gachagua singled out Bomet County Woman Rep Linet Toto Chepkorir for massive Praises.
"I came with 12 young leaders who were elected the other day and whom we have given immense responsibility in the National Assembly so that the young people can start taking their rightful place," the DP said.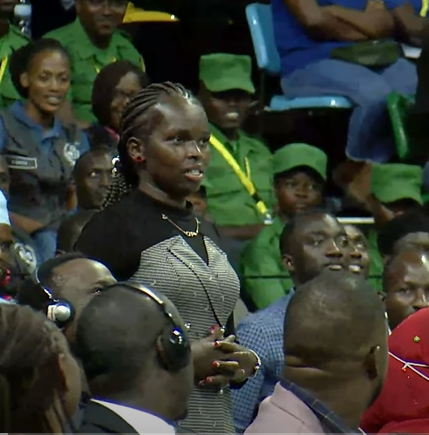 "I came with one of the miracles in our country, a little young girl, 24 years old, and was elected as the Woman Rep of Bomet county defeating a mature experienced woman."
The remarks were treated with resounding cheers from the crowd even as MP Toto stood to appreciate the recognition.
Also present at the function was President Hage Geingob of Namibia.
The YouthConnekt summit in Kigali, Rwanda was attended by more than 9,000 youth from across Africa.
The summit aims to harness economic opportunities for the youth and to empower them to contribute to Africa's socio-economic growth and sustainable development.
Accompanying Gachagua at the forum to support the agenda, were some of the youthful Mps Hon Linet Chepkorir 'Toto', Hon John Paul Mwirigi, Hon Vincent Kawaya, Hon Joseph Lolmegit, Hon Ken Arama, Sen Karungo Thangwa, Hon Pamela Njoki, Hon Mohamed Ali, Hon Reuben Kiborek, Hon Patrick Munene. The delegation also includes Hon Silvanus Osoro (Chief Whip) and Hon Ndindi Nyoro.