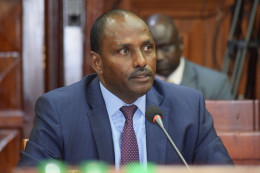 Oct 13, 2022 at 03:48 PM
Outgoing Treasury CS Ukur Yatani has responded to reports that Kenya defaulted on payment of China SGR loan....
Sep 22, 2022 at 02:45 PM
"Ruto is now in charge. When one wins you work from there, moving forward," former Nyeri Town MP Njunjiri Wambugu....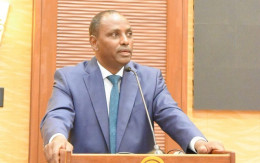 Sep 22, 2022 at 02:00 PM
The Treasury CS has maintained that the National Treasury will not disburse CDF funds....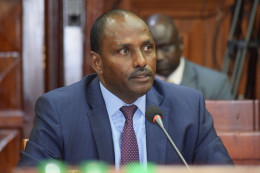 Jun 15, 2022 at 02:41 PM
The National Treasury CS Amb. Ukur Yatani has revealed why fuel prices may rise even higher....
Apr 07, 2022 at 05:59 PM
Garissa Township MP Aden Duale had said that the 2022/23 budget statement was unconstitutional and illegal....
Apr 07, 2022 at 05:59 PM
CS Ukur Yatani unveiled a KSh. 3.3 trillion 2022/23 budget. ...
Apr 07, 2022 at 04:08 PM
The CS said that the price of fertilizers had more than doubled in the last year....
Feb 10, 2022 at 09:44 AM
CS Yatani said his decision seeks to help the Head of State in the transition period to ensure that the government is in safe hands...
Oct 04, 2021 at 02:06 PM
While addressing leaders and residents, the ODM Leader pledged to reintroduce the Ministry of State for Development of Northern Kenya and other Arid Lands. ...
Jul 09, 2021 at 11:23 AM
Kenya Commercial Bank (KCB) customers are set to pay higher interest rates on loans after the bank implemented the Finance Act, 2021....
Jul 02, 2021 at 11:11 AM
The Kenyan Government's infrastructural projects could be facing delays after China delayed the disbursement of loan funds meant to finance the projects....
Jun 10, 2021 at 05:34 PM
Reading the 2021/22 budget in parliament on Thursday, CS Yatani stated that betting had become widespread in the country. ...
Jun 10, 2021 at 12:59 PM
Four roads will be closed down today afternoon ahead of budget2021/2022 reading by Treasury Cabinet Secretary Ukur Yatani....
Jun 10, 2021 at 12:25 PM
Members of the public and politicians alike have called on the government to reduce taxes on basic commodities that have strangled ordinary Kenyans and SMEs....
May 23, 2021 at 10:53 AM
KPA, KPC, and KRC have been transferred from the Ministry of Transport to the National Treasury....