Feb 14, 2023 at 04:41 PM
President William Ruto now says that Kenya can borrow from any international financial system across the world....
Sep 22, 2022 at 07:13 AM
"Don't try too hard with diplomacy. Keep it simple. Muzungus Don't care about teleprompters."...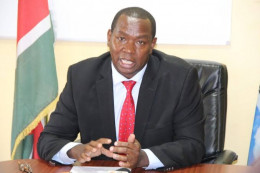 Jan 05, 2022 at 01:23 PM
Raila also announced the appointment of IMF consultant, Elizabeth Meyo as the campaign's chief executive officer and secretary to the board...
May 18, 2021 at 10:43 AM
The International Monetary Fund (IMF) has sent Ksh48 billion to Kenya....
Apr 08, 2021 at 09:33 AM
The IMF has urged Kenya to revise fuel levies upwards in a bid to increase revenue collection....
Apr 07, 2021 at 09:06 AM
The International Monetary Fund (IMF) issued Kenya with a list of conditions to meet in relations to the access to and repayment of a Ksh257 billion loan....
Apr 03, 2021 at 09:41 AM
The International Monetary Fund (IMF) approved a $2.34 billion financing loan for Kenya to support the country's Covid-19 response. ...
Dec 04, 2020 at 01:20 PM
 The government took Sh887,308 in loans each hour Reports have shown that the Kenyan government against advisement by IMF and World Bank continued pile up of public debt...