May 16, 2023 at 04:28 PM
"Our currency fell significantly against the Tanzanian shilling – by nearly 10 percent since last September. This suggests that domestic factors are causing part of the decline o...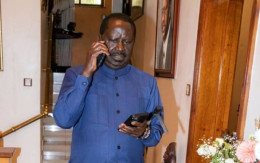 Nov 04, 2022 at 03:24 PM
"Raila should be the last person to give a lecture on how to drive the economy," Kenya Kwanza....
Sep 26, 2022 at 10:26 AM
"Please pray for our economy, things are difficult," President Ruto to the clergy....
Sep 22, 2022 at 02:45 PM
"Ruto is now in charge. When one wins you work from there, moving forward," former Nyeri Town MP Njunjiri Wambugu....
Sep 22, 2022 at 11:52 AM
"Sometimes in public, leaders argue out of ignorance. I don't know whether to sympathise with them," CS Yatani....
Dec 04, 2020 at 01:20 PM
 The government took Sh887,308 in loans each hour Reports have shown that the Kenyan government against advisement by IMF and World Bank continued pile up of public debt...