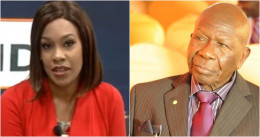 Mar 26, 2023 at 09:58 AM
Victoria Rubadiri clarified that Moody Awori was alive and well....
Mar 08, 2023 at 12:29 PM
COTU Secretary General Francis Atwoli on Wednesday, March 8 visited former Vice President Moody Awori....
Jun 16, 2021 at 10:36 PM
In our segment of #KenyaWomenSeries, we feature, Wanini Kireri. She is the Senior Assistant Commissioner General of Prisons in Kenya. ...