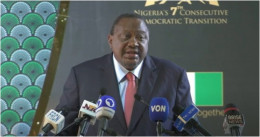 May 27, 2023 at 03:51 PM
The former president landed in Abuja on Friday, May 26....
May 25, 2023 at 10:06 PM
Youverify Sales Director Dimitri Kanellopoulos stated that the company's aim is to venture into more markets across the world especially in Africa....
Feb 22, 2023 at 08:41 PM
"We are here to witness the people decide for themselves and to ensure that the process has been run in a manner in which the will shall be the victor," Kenyatta....
Feb 21, 2023 at 04:45 PM
Former President Uhuru Kenyatta has arrived in Nigeria ahead of his African Union (AU) role....
Feb 21, 2023 at 08:54 AM
Anopheles Stephensi, a new and dangerous mosquito vector, has been detected in Kenya raising concerns among citizens....
Jan 31, 2023 at 02:51 PM
Azimio la Umoja leader Raila Odinga has urged African Countries to rethink the use of technology in conducting general elections....
Jan 31, 2023 at 08:30 AM
The Orange Democratic Movement (ODM) party leader Raila Odinga left the country for Nigeria on Monday....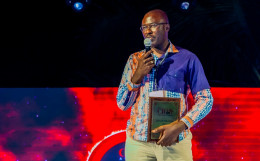 Oct 13, 2022 at 10:46 AM
Over 350 companies from over 18 countries including Kenya, South Africa, Egypt, Nigeria, and Rwanda have submitted applications for the Digital Transformation Symposium & Awards....
Feb 20, 2022 at 09:42 AM
President Uhuru Kenyatta has condoled with the family, relatives and friends of Kenya's High Commissioner to Nigeria Dr Wilfred Gisuka Machage who died on Saturday afternoon....
Feb 19, 2022 at 08:45 PM
Kenya's High Commissioner to Nigeria Wilfred Machage is dead....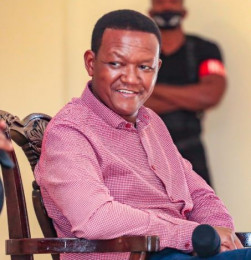 Dec 11, 2021 at 11:55 AM
The former senator said Machakos hospitals do not have drugs, medical staff is paid late and garbage remains uncollected in the town....
Sep 18, 2021 at 08:02 AM
Masai Ujiri is the President of Basketball Operations and Vice-Chairman of the 2019 National Basketball Association (NBA) champions, the Toronto Raptors. According to US Magaz...
Aug 24, 2021 at 02:23 PM
One of the leading global smartphone brands, TECNO, on Tuesday, August 24 2021 launched its new brand slogan dubbed Stop At Nothing....
Jun 25, 2021 at 02:19 PM
This shift from the iconic green bottle means more Sprite bottles can be collected, recycled, and reused to make new items. ...