Dec 03, 2022 at 11:08 AM
The sports commentator responded after Arap Uria showed up with a placard....
Nov 25, 2022 at 08:51 AM
The lucky winners of the 'Twende Qatar na Odibets' promo on Thursday departed the country for Qatar....
Nov 15, 2022 at 06:13 PM
The middle-aged man was working at his shop in Ongata Rongai when Awinja came riding on a donkey to deliver his ticket....
Nov 15, 2022 at 05:51 PM
Radio Maisha journalist Ali Hassan is among the lucky winners after winning a trip to Qatar....
Oct 11, 2022 at 02:01 PM
Showmax Pro has announced that they will be broadcasting all 64 matches of the FIFA World Cup in Qatar....
Sep 22, 2022 at 10:09 PM
Qatar is one of the largest transit gateways for overseas travellers in the world. From the finest of adventure sports and activities to having some of the most scenic places to vi...
Apr 04, 2022 at 10:08 AM
President Uhuru Kenyatta has sent a message of condolence to the family, relatives and friends of Kenya's Ambassador to Qatar, Patrick 'Paddy' Cornel Odero Ahenda who passed away...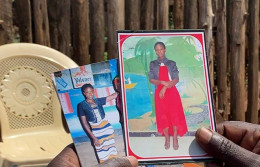 Feb 21, 2022 at 03:57 PM
This follows a meeting between Kenyan workers working in Qatar and COTU secretary-general Francis Atwoli in Doha last week. ...
Feb 14, 2022 at 04:50 PM
President Uhuru Kenyatta will today evening begin a three-day visit to the United Arab Emirates (UAE). ...