Topic: Taita Taveta County
Sep 08, 2023 at 10:20 AM
The accident happened hours after another one claimed the lives of 12 people on the same Nairobi-Mombasa Highway....
Apr 17, 2023 at 12:02 PM
"The bend was sharp. We hit the barrier and the bus rolled three times."...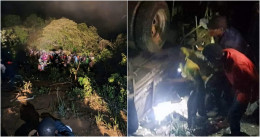 Apr 16, 2023 at 10:28 AM
The mourners were from a funeral in Mgambonyi, Taita Taveta county....
Nov 15, 2022 at 10:00 AM
Patience Nyange has been appointed as the new Executive Director effective immediately....
Feb 09, 2022 at 07:54 PM
Patience Nyange on Wednesday, February 9, officially resigned from the Media Council of Kenya (MCK). ...
Dec 17, 2021 at 03:57 AM
The by-election saw the ODM party rally behind the Jubilee candidate in solidarity with the Handshake deal....
Feb 24, 2021 at 01:03 PM
Medics who are still on strike h=were evicted from government staff quarters unceremoniously. On Wednesday morning, officers evicted the medics throwing out their property from th...
Jan 20, 2021 at 09:49 AM
A woman is in police custody for allegedly failing to take her three children to school. Police say the minors to be put under the care of the children's department as the mother ...