The Kenyan entertainment industry has been undergoing a drastic evolution thanks to social media. Unlike 10 years ago when creatives would produce their content and visit media outlets for marketing, everything is now happening online.

Social media has changed the way content is promoted, with ideas such as using publicity stunts being some of the most successful in the country.
In 2022, several creatives used publicity stunts to push their content and either gained good results or fell short of expectations.
In this article, we review 4 best publicity stunts that caught many Kenyans by surprise:
1. Vera Sidika butt surgery
The renowned socialite set social media ablaze in October 2022 after she disclosed that she had a butt reduction surgery.
"…This has been the hardest phase in my life, due to health risks, I had to undergo surgery. It's still very unbelievable but I've come to terms with it and learnt to love myself regardless. Ladies; please learn to love yourself and don't ever let peer pressure rush you into things that will ruin you in future. I'm lucky to be alive, God loves me so much," she said in reference to the purported surgery.
Most netizens believed the story, only for her to release a new video while she was on top of the trends.
2. Stivo Simple boy and Jenny Wangui's engagement
The two got engaged in July 2022 after Steve's break-up with Pritty Vishy.
Following the engagement, Steve released a wedding song dubbed 'Wedding Day' which featured Jenny.
Many believed the narrative, but Jenny recently disclosed that it was all a stunt meant to make them a topic of discussion online.
"It was just showbiz and it's over," she was quoted by K24.
3. Akorino Twins impregnating one girl
This one was the talk of the town. The two Akorino brothers went viral in the country, with most people wondering how they had agreed to share a wife.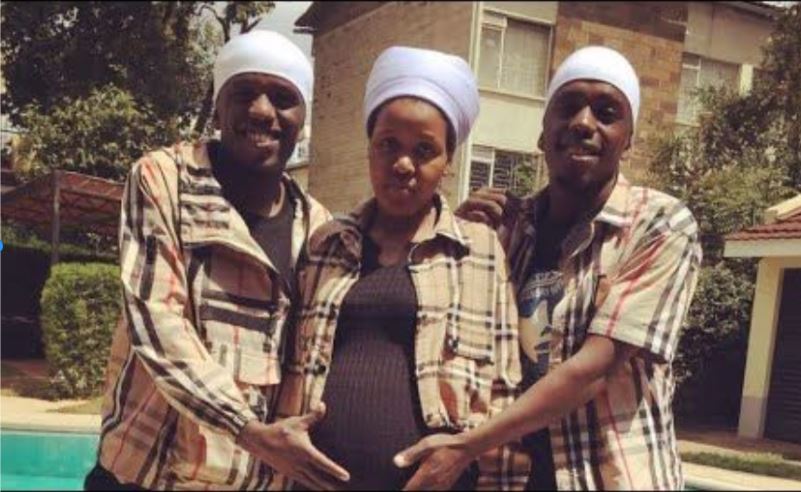 Emilly Nyaruiru (C) with twins Akorino Peter Macharia and Teddy Kimathi. [Photo: Courtesy]
When the story broke, the brothers claimed that they were sharing one wife and none knew who had impregnated her.
"We are family, this is our wife, me and bro we are twins. We share the same wife because we are twins. We live together, we share the same bed. Sisi ni watu na bibi yao. We are twins," one of the twins was quoted.
Later, the twins revealed that the entire story was a stunt meant to push and grow their YouTube channel.
However, nothing much came out of it as they received negative criticism and did not get the number of subscribers they expected.
"We were expecting ifike 200,000k subs, 130, 000k au 150,000k subs ikienda chini sana, considering ilijulikana kila place… I regret that we pulled the stunt, we have never been negatively affected in our lives as we have experienced the past few months," one the twins said during an interview with Mpasho.
4. Magix Enga on joining Illuminati
In January 2022, celebrated Kenyan producer and musician Magix Engagement claimed that he got his riches by joining the Illuminati at 24.
He claimed the group is real and asked Kenyans to take it seriously, arguing that he was a living testimony.
"That Illuminati thing is real and people should stop joking about it. I joined when I was 24 years old now am turning 30," he said during an interview with Presenter Ali on YouTube.
However, Magix later noted that it was just a publicity stunt, adding that the interview cost him gigs and the clients he was working with.
"The video has damaged my reputation such that I can't release a song…There is nothing like Illuminati…..It was peer pressure with a lot of influence," he divulged.