Former Director of Presidential Service Unit in the late former President Daniel Arap Moi's government Lee Njiru is widely known as a career journalist and author, however, not many know that he is also an established entrepreneur.

Njiru owns Cherrynam resort - one of the leading hotels in Nakuru County. The facility is located along Nakuru-Eldoret Highway at Ngata area.
In a past interview, Njiru noted that he started making the investment as a cushion incase things did not work well for him during his time at State House.
Starting Cherrynam Resort
While it is a leading hotel at the moment, it started out as a school before undergoing a transformation into what it is today.
He started working on the facility in 2008 when his plan was to build a school. After completing it, he ran the school for a year before shutting it down.
It is at this point that he decided to research on alternative business ideas that he could implement at the premise and settled on a resort.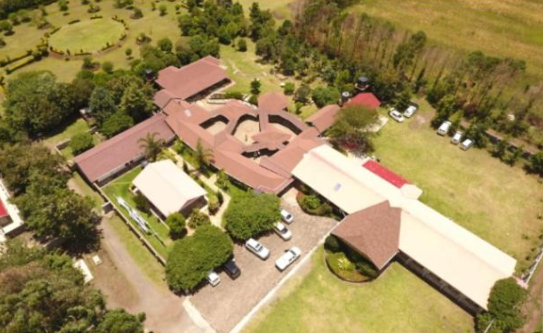 Aerial view of Cherrynam Resort in Nakuru. [Photo: Courtesy]
"I knew if I set up a hotel, here, it was just a matter of time before I started reaping what I had sown... I went ahead with the hotel idea," Njiru said.
About Cherrynam Resort
The resort has 25 rooms and a huge compound that acts as a venue for picnics, team building activities, seminars, weddings, and other social events.
Having been constructed on a 25-acre piece of land, the facility has a separate section where an airport lounge has been established. Guests can fly in, fuel their aircraft, have a meal, and fly out.
The hotel has a nice well-kept garden where guests can enjoy meals on request. The rooms at the facility are luxurious with modern fittings including canopy beds.
Njiru says he gets good returns from the facility but says the government is taxing hoteliers too much money, thus reducing the profit margins.