The media industry is one of the most competitive career fields in the world. For you to succeed and make it to the top, especially in broadcast media, you have to be extremely good at your craft.
Cognisant of this fact, Citizen TV journalist Hassan Mugambi started at the bottom of the pyramid and worked his way up to where he is now.
In this article, we outline the journey of Hassan Mugambi from working at a community radio in Kibra to being a top news anchor at Citizen TV.
Hassan Mugambi Early Life and First Job
He was born and raised in Kibra slums, Nairobi County. After completing his primary and secondary education, he joined East African School of Journalism and later the University of Nairobi where he studied and graduated with a journalism degree.
Armed with his degree, he ventured into the job market and landed a role at Pamoja FM - a community radio station in Kibra.
At Pamoja FM, he used the platform to get a practical understanding of journalism, while at the same time perfecting his craft, especially broadcasting in Swahili.
Joining K24 TV
While he was still at Pamoja, China Global Television Network (CGTN) poached leading journalists from some of the top stations, leaving them scouting for replacements.
Mugambi took advantage of the CGTN raid and sent a recording of him reading news to K24 TV, hoping to get a slot at the Kijabe street based media outlet.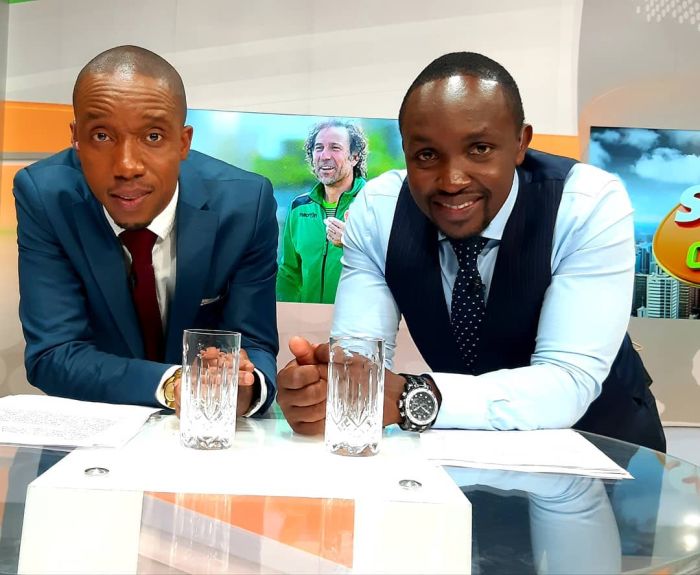 File image of Citizen TV news anchors Rashid Abdalla and Hassan Mugambi. [Photo:Courtesy]
His effort paid off when he received a call from K24 TV inviting him for a screen test. However, he had a challenge as he was required to be in a suit, but owned none at the moment, forcing him to borrow one from a friend.
"I remember standing up and seeing the number beginning with 020...wondering who was calling me. Then the voice on the other side said, 'Hi, I'm Richard Kagoye from K24. That was like the best phone call I had received in a long time. He told me that I was required to go for a screen test on Sunday and added that I needed to be in a suit," Mugambi narrated.
After the test, he got a call informing him that he was among the successful candidate and served a three-month probation before fully assuming his role as a news anchor.
He worked at K24 for 5 years before making the switch to Royal Media Services (RMS).
Joining Citizen
In 2017, Citizen TV which is arguably the biggest television station in Kenya came calling and Mugambi hearkened to the call.
He was offered the position of crime news reporter and Swahili news anchor, a position he holds to date.
His journey is a testament that where you start does not matter, what matters is how you finish and the importance of doing your best regardless of where you are at a particular point.