Four Kenyan students from St Paul's University were on Tuesday, September 20, 2022 awarded $1 million Hult Prize for their business innovation dubbed Eco-Bana.

Eco-Bana is a social enterprise led by four students namely; Lennox Omondi, Keylie Muthoni, Dullah Shiltone and Brian Ndung'u.
According to information on Eco-Bana's website, the students work together with other young entrepreneurs to produce biodegradable, eco-friendly and hygienic sanitary towels made from banana fibers.
The company was founded in 2020 with an objective to address the challenges faced by thousands of women in accessing sanitary towels.
Following their win, the group was congratulated by among others; Kenya's President William Ruto who noted that the team has put the country on the global stage.
"Congratulations to Eco-Bana, a Kenyan social venture started by four university students, that has just won the prestigious Hult Prize and a cash award of 1 million dollars. The prize is awarded to entrepreneurs who strive to tackle pressing global issues through innovation.
"The firm makes hygienic sanitary pads from banana fibers. This is the Hustler Spirit that we are keen to support," President Ruto tweeted.
But who are the four students behind the initiative? NairobiLeo did some digging and put together their details: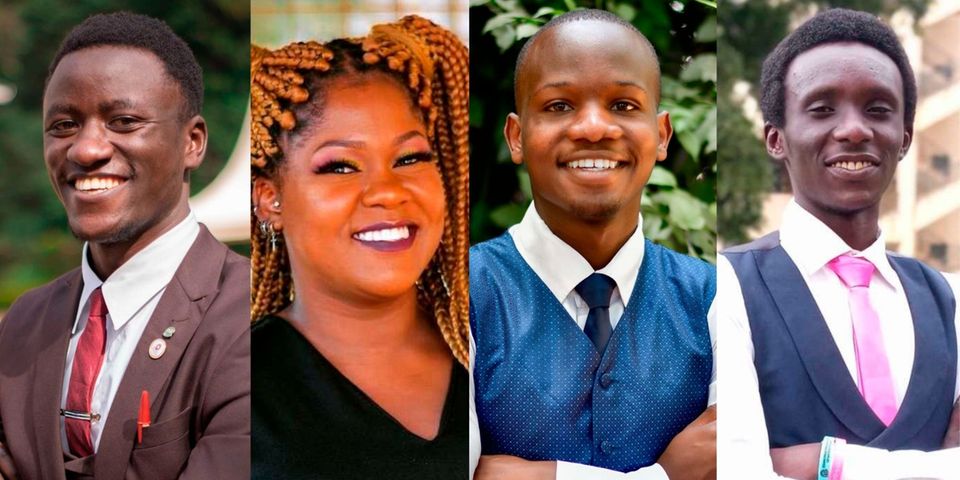 Collage image of Eco-Bana founders. [Photo: Courtesy]
Lennox Omondi
He is the founder and Chief Executive of Eco-Bana Limited. Lennox holds a Bachelor's Degree in Nursing and Menstrual Health and Hygiene Management (MHM).
He is highly experienced in the field of menstrual hygiene and has worked for several renowned agencies that include; Global Ambassadors of Sustainability where he is currently serving as a trainer of Sustainable Development Goals (SDGs )and Menstrual Hygiene.
Other organizations he has worked with include; Africa Youth for SDGs, Enactus Kenya, and Amnesty international among others.
Going forward, Lennox aims to undertake a master's degree at Oxford University.
Keylie Muthoni Ogola
Keylie is a mass Communication and development communication student at St. Paul's University.
She is also the Co-Founder and Chief Operating Officer Eco-Bana. She has worked at several organizations that include; St John's Ambulance, Light FM (St Paul University radio ) and Kenya Ports Authority among others.
Keylie is also a freelance actress and also offers voice over and audio production services.
Being passionate about the media, she currently has a show on Light FM (99.9) where she discusses contemporary issues facing young people.
She was not among the team that travelled to the United States for the award due to some challenges with her visa application.
Dullah Shiltone
He is a Co- Founder and the Chief Finance Officer at Eco-Bana Limited.
Currently, he serves as a volunteer Market Research Analyst at St. Paul's University Enterprise Unit. He is also the founder and owner of Rohz Media.
Shiltone is currently undertaking his Bachelor's Degree in Business and Public Relations, Communications and Media Studies at St Paul's University.
Brian Ndung'u
He is a Co-Founder and the Chief Marketing Officer at Eco-Bana Limited.
Ndung'u is currently undertaking his Bachelor's Degree in Communication and Media Studies at St Paul's University.
He holds a Diploma in Marketing Research from Jomo Kenyatta University of Agriculture and Technology.
He is highly experienced in marketing and has worked for several organizations that include; Marketing Society of Kenya, Public Relations Society of Kenya, and Light FM among others.
The four are assisted by Emmanuel Omondi who is the Chief Technology Officer and a Co-founder at the company.
Going forward, the students hope to "sell more than three million pads, generating over $50 million and employ more than 2,000 people by 2024."