Former Education CS Geoge Magoha's funeral procession snaked through various streets and institutions in Nairobi County on Wednesday. 
The body was taken to various places where the Education CS played a role in during his times on earth. 
One striking thing that came out during the procession is a performance acted by a Nigerian troop dressed and covered in white.- 
Magoha having married a Nigerian, Barbara Odudu, his inlaws arrived in the country to bid him farewell.
Nairobi Leo has established that the troop was performing a special ritual during the procession that is a norm back in Nigeria.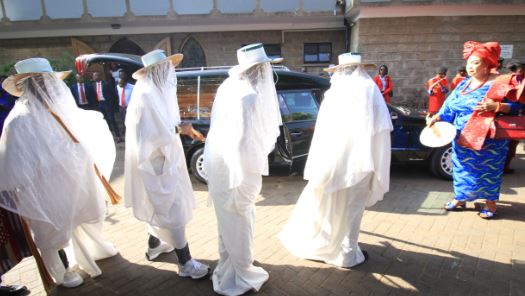 The practice is said to cleanse the dead from any grudges against living beings he has left on earth as they prepare him for the next phase of life.  
The cleansing ceremony is a preserve of the elderly men but for exceptional circumstances like that of Magoha, young men had to fit in their big shoes to get the ritual done.
The farewell caravan of Magoha proceeded from Lee Funeral Home to the Faculty of Health Sciences (FHS) University of Nairobi, Kenyatta National Hospital Campus. 
The caravan then entered the KNH Complex through KNH Gate, Hospital Road, and exited through the KMTC Gate, Ngong Road. 
The funeral committee leader former Basic Education PS Julius Jwan said on Tuesday the staff and students of FHS, KNH and KMTC are free to pay their last respects.
A requiem Mass will be held in honour of Magoha on Thursday at the Consolata Shrine in Westlands.
His Body will be flown to Siaya on Friday.
Magoha will be laid to rest on Saturday, February 11 at his Siaya Home.