Twenty students from Ndurarua Primary School have been rushed to hospital after being teargassed by anti-riot police officers in Kawangaware, Nairobi.

A video seen by Nairobi.co.ke on Friday, May 26 showed the students who collapsed as a result of the teargas being carried into a police vehicle.
According to reports, the students were in school going on with their morning lessons when police officers who were engaging in running battles with traders in Kawangware shot at least two teargas canisters that accidentally landed in the school and caused panic among students.
Some of the students who were affected have undergone first aid at the school compound while others were taken to various hospitals around Kawangware Estate.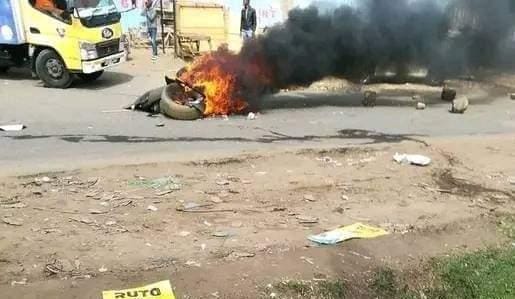 The police are yet to issue a statement about the incident.
Kawangware traders are protesting over the demolition of their stalls along Naivasha Road. The traders lit up fires on the busy road that caused a traffic snarl-up.
They demanded to know why their stalls were destroyed and how they would earn a living as a result. This forces the police to intervene by lobbying teargas to disperse the traders.