May 26, 2023 at 03:08 PM
Students from Ndurarua Primary School have been rushed to hospital after being teargassed by anti-riot police officers in Kawangaware, Nairobi....
Mar 20, 2023 at 09:47 AM
There is a heavy police presence in Nairobi's Central Business District (CBD)....
Feb 24, 2023 at 04:17 PM
Two police officers have lost their lives while three others are nursing injuries....
Jan 02, 2023 at 09:26 AM
Police officers from Nakuru County have arrested one of the most wanted suspects....
Dec 16, 2022 at 08:37 AM
A recruit constable has been arrested after attacking his squad leader with a slasher at the National Police College Main Campus, Kiganjo....
Dec 05, 2022 at 02:57 PM
The officer flagged down the students in the wee hours of the morning before descending on one of them with resounding slaps....
Nov 17, 2022 at 09:04 AM
"We cannot allow criminals to overrun our cities or any part of Kenya," President Ruto....
May 25, 2022 at 11:21 PM
Senator Cleophas Malala has been forced to apologise to police officers after his remarks which have attracted a backlash. ...
May 21, 2022 at 03:08 PM
The remains of a 30-year-old man and his 3-year-old daughter were discovered in a local lodge....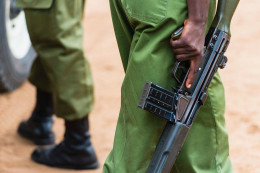 Mar 17, 2022 at 03:27 PM
The gang attempted to rob two university students who were said to be on a mission to buy avocados....
Nov 04, 2021 at 01:24 PM
The six police officers linked to the death of the Kianjokoma brothers; Benson Njiru and Emmanuel Mutura have been freed. ...