CS Kithure Kindiki has fired a warning shot at Meru Governor Kawira Mwangaza and her deputy Isaac Mutuma M'Ethingia following a violent clash between their supporters on Sunday.
The ugly confrontation saw a cow donated to Governor Mwangaza's foundation slaughtered and the mattresses donated burnt.
The Governor was holding her foundation activities at Maua Igembe South where she was distributing household items to the locals under the Okolea Program.

Maua Igembe South is the home of Deputy Governor M'Ethinga who recently clashed with his boss and they hardly see eye to eye.
As a result of the chaos, CS Kindiki has ordered immediate arrests of the supporters of the two county bosses.
"The violent chaos pitting criminals supporting the Governor and Deputy Governor of Meru County respectively must stop forthwith. Security agencies have commenced the hunt for the criminals and will round them up, arrest and prosecute every one of them," the CS said.
Kindiki said investigations will also ensue on the planners, abetters and financiers of the violence witnessed in the Igembe region of the County.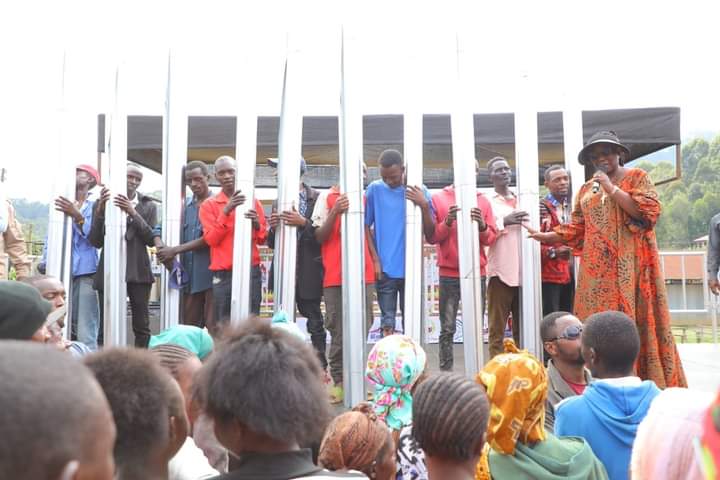 "Citizens, including political leaders of all ranks and all political parties/formations, must carry out their activities lawfully and peacefully without exception," the CS said.
"No violence whatsoever will be tolerated as it undermines national security, the rule of law and makes our Country look backwards."
Governor Mwangaza while reacting to the incident said she will not stop her mission of helping the vulnerable Meru people.
She asked investigating agencies to take action and ensure those behind the violence are held responsible.
"We call upon relevant agencies to investigate the matter thoroughly and take the necessary measures against those responsible. We must ensure this never happens again in our society," Governor Mwangaza said.
"However, we want to emphasize that we will not be deterred from our mission to help those in need. We will continue to reach out to the less fortunate and play our part in improving people's lives."