An opinion poll carried out on Twitter by Kapseret MP Oscar Sudi went unexpected after Raila Odinga emerged as the respondents' most preferred candidate.
Sudi posed to his followers a question of who they would elect as president in the next week's presidential election and the choices were limited to Deputy President William Ruto and the former prime minister.
"It's 3 days to the election. Let's vote," wrote Sudi on the microblogging site.
However, a few hours into the poll, Raila emerged as the favourite of the tweeps who participated in it.
As per the results, by the time of filing this report, Raila had 56.3% on his side, Ruto securing 43.7%.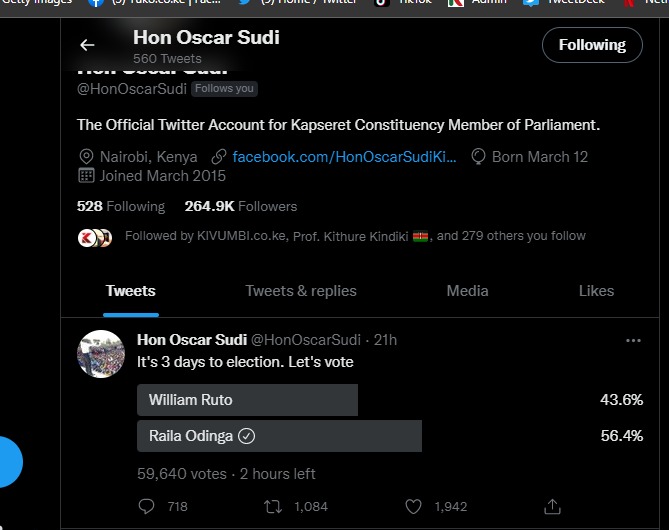 Many found it odd given that Sudi is a chief ally of the deputy president and a critic of Raila who had bitten the former in the Twitter poll.
A spot-check to Sudi's handle however confirmed the poll had been deleted.
Kenyans will be going to the polls on Tuesday, August 9.
This will be the third general election since the promulgation of the 2010 Constitution.
In the election, over 16,000 candidates are eyeing about 1882 elective posts.
Of all the elective seats, 141 account for the county governors, senators and woman representatives, 290 for the members of the National Assembly, 1450 for the members of the county assemblies and 1 for the president.