Topic: Deputy Presidential Debate 202
Jul 23, 2022 at 04:08 PM
Rigathi sensationally claimed that Odinga had written to the organizers asking to be allowed to sit down during the debate since he cannot stand for the whole 90 minutes....
Jul 22, 2022 at 05:00 PM
MCK has revealed the number of Kenyans who watched the deputy presidential debate held on Tuesday, July 19....
Jul 19, 2022 at 10:51 PM
Deputy President William Ruto has congratulated his running mate Rigathi Gachagu after Tuesday's Deputy Presidential Debate...
Jul 19, 2022 at 10:16 PM
According to Gachagua, the debate failed to deliberate on real issues affecting Kenyans. ...
Jul 19, 2022 at 09:43 PM
"The Sh56 million I had declared in 2013 has appreciated because of the inflation. I do not look for property," Martha Karua....
Jul 19, 2022 at 09:12 PM
"I am a hardworking man, I wake up early and I don't take alcohol," Rigathi Gachagua....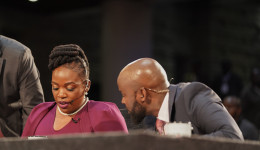 Jul 19, 2022 at 01:03 PM
The Presidential Debate Secretariat has made changes to the moderators of the Deputy Presidential Debate....
Jul 13, 2022 at 07:19 PM
The Deputy Presidential Debate is set to be conducted on July 19, 2022, at the Catholic University of Eastern Africa in Nairobi. ...