Topic: Political Parties Amendment Bi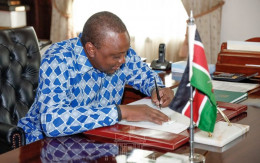 Jan 27, 2022 at 03:21 PM
Uhuru was presented with the bill for signature at a brief ceremony attended by among others Attorney General Paul Kihara, Senate Speaker Ken Lusaka and his National Assembly count...
Jan 27, 2022 at 05:16 AM
The Political Parties Amendment Bill 2021 dubbed the Coalition Bill was passed by the Senate on the night of Wednesday, January 26, 2022. ...
Jan 13, 2022 at 12:02 PM
President Uhuru was scheduled to meet handshake MPs for talks at the State House this Thursday....
Jan 06, 2022 at 01:21 PM
In the video, the MP is seen pushing the female Sergeant from where she was trying to restore order ...
Jan 05, 2022 at 12:57 PM
During the session, Kimunya was roughed up following a violent altercation after he took to the floor to move the bill. ...
Dec 28, 2021 at 01:22 PM
MPs allied to DP Ruto have opposed the proposed changes in the Political Parties Amendment Bill, 2021....
Dec 22, 2021 at 04:23 PM
The push and pull among legislators forced the Deputy Speaker to indefinitely suspend the debate....