Optiven Kenya is arguably one of the fast-rising and renowned property companies in Kenya.

Optiven is known for offering properties especially land in various parts of the country. While the company is widely known, not many know its founder and the story behind its establishment.
In this article, NairobiLeo outlines the story of George Wachiuri, the founder and current CEO of Option Kenya.
George Wachiuri Education and Early Life
Wachiuri was born in Kieni, Nyeri County. He is the fifth born in a family of seven children. He attended Chinga High school in Othaya.
He later joined the University of Nairobi where he graduated with a Bachelors Degree in Commerce in 1997 and a Masters in Business Administration in 2005.


His childhood was tough as he lost his father in 1978 and his mother depended on casual jobs which were not a guarantee.
"My father passed away when I was still a small boy and soon after, we had to seek manual labour in our village in order to survive. We would wake up very early in the morning, accompany our mother to till our rich neighbours' land for a small pay, then dash to school," he said during a past interview.
Establishing Optiven
Before establishing Optiven, Wachiuri had tried his luck with 15 other businesses, but none had worked out as he expected.
His first business was a cosmetics shop for ladies in Ngara, Nairobi. He believes the business went down due to challenges emanating from money.
The second business was a water packaging company, he had partner who unfortunately locked him out of the business. His third business was car hire, but he had to close after losing some of his cars.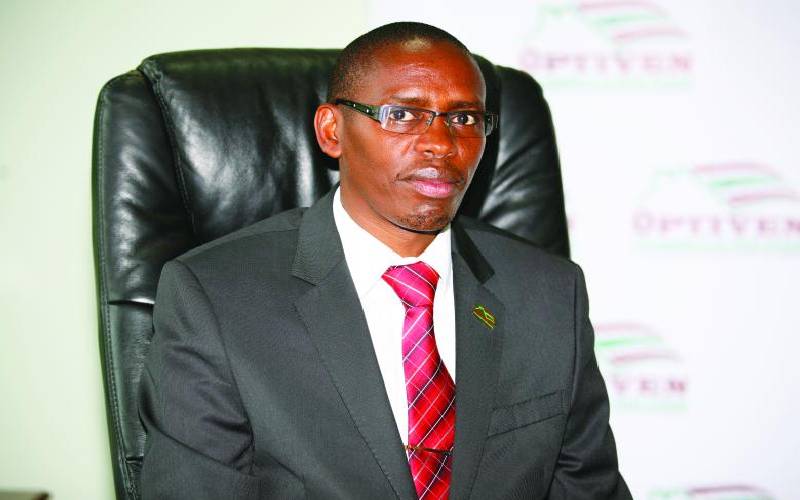 File image of Optiven CEO George Wachiuri. [Photo: Courtesy]
He also tried his hand in tours and travel, but that went down in 2007 due to the aftermath of the 2007 post-election violence.
The last business he tried before establishing Optiven was a property agency, but it went down due to lack of proper contractual documentation.
In a past interview, Wachiuri divulged that he once sold a high-end property and was expecting a huge commission, but the property owner shortchanged him due to lack of a contract.
It is this setback that prompted him to join his brother and bring to life Optiven Kenya, a company they had registered in 1999.
Wachiuri then decided to use his savings amounting to Sh5 million to acquire property in Syokimau, with the aim of subdividing it and selling it for a profit.
"When we went to buy, we thought the land was good, we did a search it was good, we paid the deposit, but the land was not clean, the entire money was lost and it was one year of depression," he told K24 TV in a past interview.
Following the duping incident, Wachiuri struggled with the idea of ditching the real estate industry but decided to follow his vision and emerged stronger. The company's major breakthrough came in 2011 when it secured funding from a local bank.
"2011 was the first time we secured a bank loan, we were able to buy a sizeable piece of land and we able to sell to customer quickly."
Today, Optiven is an established property company and is considered one of the fastest growing in the country.
Wachiuri's Take on Entrepreneurship
Wachiuri believes that entrepreneurship is the future and has urged young people to consider starting business ventures as opposed to seeking employment opportunities.
He underscores that establishing a business is challenging, but believes that with patience and determination, any entrepreneur can be successful.
"Optiven for us to break even, we took 11 years. For those doing small businesses, don't rush quickly to be like Optiven, go step by step, build your brand, build your name and you be like Optiven or even better," he said.
To date, Optiven has won several awards including; Most Outstanding Innovation in Top 100 Mid-Sized Companies (2017/2018), Top Real Estate Firm in Land Selling- SuperBrands (2017/2018), and Exceptional Human Resource (HR) Practices in Top 100 Mid-Sized Companies (2017/2018) among others.
Wachiuri's hard work and determination has seen him appointed and serve in several boards that include; Kenya Private Sector Alliance (KEPSA) and Kenya Private Developers Association (KPDA) among others.
Wachiuri the Author
In addition to being an established entrepreneur and motivational speaker, Wachiuri is also a celebrated author. He has published two books namely; 'Unleash your Potential' and 'Soaring like an Eagle'.


He says that proceeds from the sales of his books go to Optiven Foundation; a charity organisation that helps the vulnerable in society.