The first thing that always comes to mind when you mention the name Sossion is former Nominated Member of Parliament and KNUT Secretary General Wilson Sossion.

Sossion made a name for himself while serving at KNUT where he fought for teachers' welfare and the improvement of the Kenyan education sector.
His work at KNUT saw him nominated to Parliament, thus making him more popular. However, he is not the only Sossion that is doing great things.
The former nominated MP has a sibling named Simon Sossion who is also doing great things in the field of educational publishing.
In this article, NairobiLeo outlines how Simon Sossion build a multi-million publishing business empire from a struggling company.
Simon Sossion Education and Early Life
He attended Tenwek High School and later joined Kenyatta University where he graduate with a Degree in Literature.
Prior to establishing Spotlight publishers, Simon worked Kipsigis Girls as a teacher and later moved to Longhorn publishers where he served for 12 years.
Establishing Spotlight Publishers
Simon resigned from Longhorn in 2008 and embarked on a self-employment journey. He began by acquiring Target publishers; a business venture that was struggling to stay afloat. He later renamed it to Spotlight Publishers.
Speaking during an interview with Business Daily, Simon noted that the initial phase of the business was challenging, adding that he had a lean workforce and struggled to establish his firm in the competitive publishing space.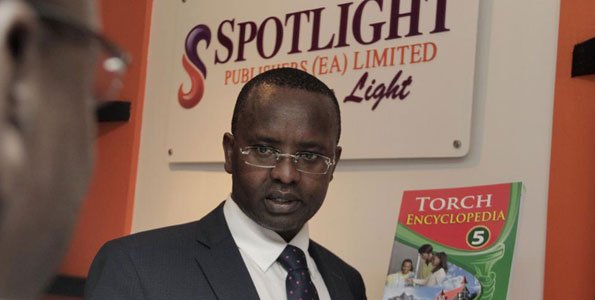 File image of Spotlight Publishers CEO Simon Sossion. [Photo: Courtesy]
"It was the best decision I ever made. It was more of starting from small to big unaware of how tomorrow would be. It taught me the need to start a business when you are energetic. Most business are created when people are about to retire or get sacked. Sometimes they don't survive because of high expectations and the need to be proved right," he told the publication.
Explaining the motivation behind starting the publishing firm, Sossion noted that he was interested in filing a gap he had identified in the sector.
His determination and motivation coupled with his experience working at a Publishing firm, saw him work with renowned author Wallah Bin Wallah to produce the company's first title dubbed 'Kiswahili Mufti" that ended up being a course book in Kenya's primary schools.
"It was a combination of many factors, risk taking and resilience having left a well-paying job at a local publishing firm. I had a very small work force that included me and the messenger," he said.
Spotlight Publishers Going Regional
After the release of Kiswahili Mufti and some of the companies other titles got huge success locally, Sossion started getting attention from other countries in the East African region.
Some of the countries that approached him include Uganda, where his company supplied English study books for primary schools, in a deal believed to be worth millions.
"The initial plan was working on revision material which was and still is a niche market in primary and secondary schools. We saw a gap and improved on quality. You always remain on top when you do things differently," he opined.
Apart from Kenya and Uganda, Spotlight publishers is also operational in Rwanda.
Status of Spotlight Publishers and Some of its Prominent Books
According to Sossion, he started the company with Sh50,000 savings, but today the company is believed to be worth hundreds of millions.
Sossion started by commissioning one author, but today, the company is dealing with 100 authors. He has employed over 50 employees and is producing more titles across the three primary countries of operation.
Some of the company's prominent titles include:
- Torch Encyclopedia
- KCSE Mirror Series
- Spotlight Language Activities
- English for Rwandan Schools
- Kurunzi ya Kiswahili
Challenges Facing the Publishing Industry
For him, doing what he loves has helped him push beyond the challenges and attain the great success he is enjoying today.
Sossion underscored that the journey has had ups and downs, adding that it was what you do when you are down that matters.
"Publishing is my passion. I have been in the book industry for 25 years. There have been highs and lows but you have to work on both your strength and weaknesses and encourage fresh ideas. It has not been easy but you have to be very persistent and patient."
According to Sossion, the major challenge in the publishing scene is piracy. He noted that piracy has been a major setback to growth of the publishing industry. However, numerous efforts have been put to curb the same.
Impact of Wilson Sossion on his Business?
Asked if being a brother to Wilson Sossion helped his business growth, Simon noted that he is his own man, adding that his hard work, consistency, and having a great team are to credit for Spotlight's success.
"He has his own duties and I have my own ambitions. His influence in the education sector has played no impact to the success of my publishing firm," he divulged.