The meetings between Former President Uhuru Kenyatta and Prime Cabinet Secretary Musalia Mudavadi are not a coincidence, Political analyst Mutahi Ngunyi has said.
The analyst says the meeting could be part of a wider plan behind the scene that could see President William Ruto reconcile with his successor Uhuru.
Ngunyi said the two will soon reconcile owing to Uhuru's peacemaking nature and the fact that the two need each other.
"Uhuru Kenyatta will make peace with William Ruto because he is a peacemaker. He met Mudavadi in Burundi. And met Mudavadi in Nigeria. This is not a coincidence. Ruto needs Uhuru. Uhuru needs Ruto," he tweeted.
Uhuru and Mudavadi shared yet another moment after they met in Abuja, Nigeria.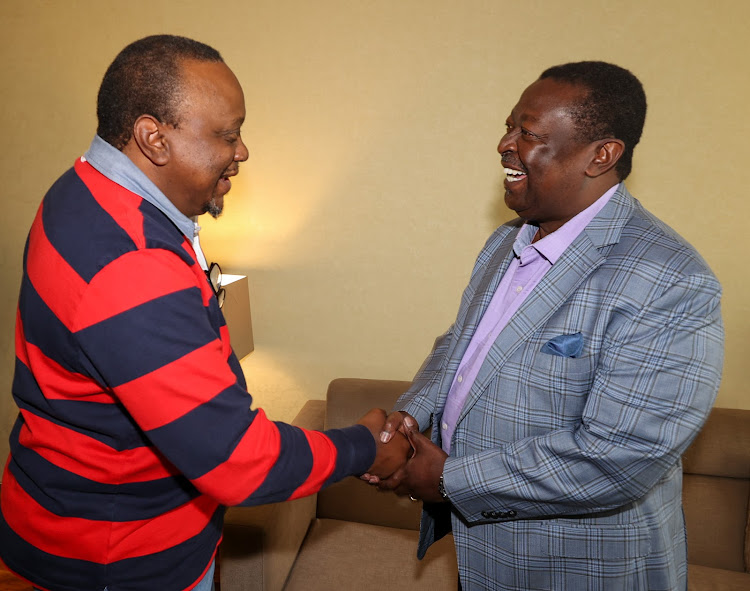 The two leaders who were in Nigeria for the inauguration of President Bola Tinubu met on Tuesday.
Tinubu was sworn in on Monday, as the 16th President of the Federal Republic of Nigeria. 
It is while in Nigeria that Uhuru delivered a keynote address on the need for peace and reconciliation even as he asked President Tinubu to embrace dialogue.
On May 7, the two met at the sidelines of the 11th high-level summit for peace and security for the Democratic Republic of Congo and the entire East Africa region as well.
The meeting was held in Bujumbura, Burundi.