Azimio leader Raila Odinga's lawyer, Silas Chepkeres Jakakimba, has differed with Azimio spokesperson Prof. Makau Mutua over a tweet about Winnie Odinga.
Prof. Mutua on Wednesday, October 19, took to Twitter to urge Kenyans to desist from attacking the former Prime Minister's daughter.
He claimed that Winnie was a young politician who needed to be supported and nurtured adding that she had talent.
"Those who've been attacking Winnie Odinga should cease and desist. She's a young woman in politics. A man in her shoes wouldn't be so pilloried. Winnie got talent, but advice and mentorship will be key. Let's support our young, not "eat" them," Mutua tweeted.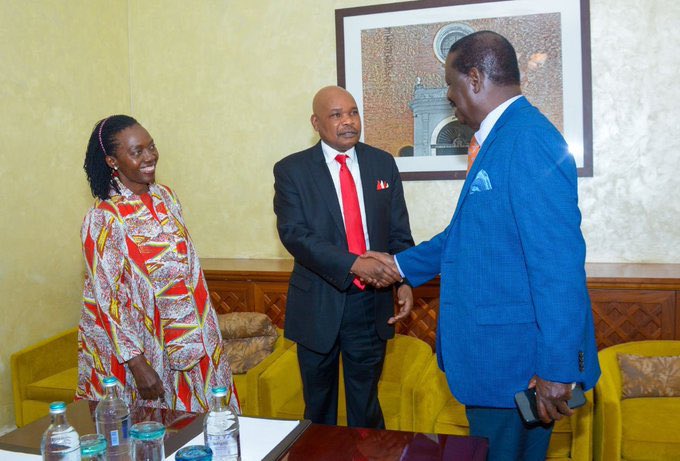 However, the law professor's sentiments did not go well with Jakakimba, who quickly reacted to the tweet by the Azimio spokesperson.
Jakakimba said that it was not necessary for Mutua to portray Winnie in that manner maintaining that he was doing the same harm to her in regards to attacks from netizens.
"Prof. I'm not very sure if this tweet is even necessary coming from your handle: it goes to put Winnie in the same space you are trying to decry. You'd have let this slide as it already did," Jakakimba replied.
This comes after Winnie got back to Twitter after over a month of missing in action as her account could not be found.
"Back on Twitter after some time and my mentions are in shambles. I see you've been talking. Just be knowing there's a whole different system between an election campaign and an election day. If I was handling the latter I'd be tweeting this from wedding venue!" Winnie tweeted on October 16.
Si aingie kwa uwanja tujue ka yeye ni ndume

— Riggy G.😂😂 (@Emkadady) October 19, 2022
you like cheating and mis-advising odingas buana, you need to give real and well meaning advise sir pic.twitter.com/p46w6L60yg

— Prof Pjombiz Pkelat Plukuimoita Pjomosnet Pkoborit (@pchomostnet) October 19, 2022
Prof.
I'm not very sure if this tweet is even necessary coming from your handle: it goes to put Winnie on the same space you are trying to decry. You'd have let this slide as it already did.

— Silas Chepkeres Jakakimba (@silasjakakimba) October 19, 2022
This is good advise. But self reflection and introspection will be genius. Accepting your role in success is easy. Doing so in defeat is progressive. ODM leaders were extremely arrogant. I used to meet them at elmolo lavington.

— Nyaruanda Calvince O (@ONyaruanda) October 19, 2022
Tell her to stop her being arrogant and lower her pride.

— Willys juma (@Willysjuma4) October 19, 2022
You need to be silent makau, how can you defend a poorly raised person, if she is young she should be arguing with her fellow agemates, meanwhile, hasiyefunzwa na mama atafunzwa na ulimwengu.

— Mutuastephen (@Mutuastephen102) October 19, 2022
you want to eat @HEBabuOwino, @ledamalekina and support Winnie?

It won't make sense. We know what drives you.

It's not a spirit of supporting the youth.

— Captain Kipkorir 🇰🇪 (@CaptainKipkorir) October 19, 2022
Understood Prof.
But what does she understand about HUMILITY

— Sir Geofrey (@kiprogeff) October 19, 2022
Now with this Tweet you've surely decided to expose her to Twitter Roasters . You should have kept quiet 🤫.

— KeeruH (@Keerulanah) October 19, 2022
Stop this crap proff. Show us one young man you have supported for whatever course out there to an extent of tweeting about the same.

— Kisor-Keny (@etich_matelong) October 19, 2022