Jan 27, 2023 at 02:40 PM
Junior Secondary School students are set to report next week on Monday, January 30, 2023....
Jan 24, 2023 at 02:13 PM
Junior Secondary School has three students in grades seven, eight, and nine....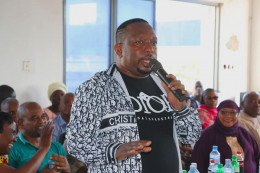 Dec 07, 2022 at 11:29 AM
"Hii mambo ya ku abolish primary boarding schools hapana. In my own opinion, I think the move is ill-advised."...
Sep 30, 2022 at 04:09 PM
President William Ruto has appointed 42 members to the education reforms task force to review Competency Based Curriculum (CBC)....
Sep 24, 2022 at 05:13 AM
Deputy President Rigathi Gachagua has said the Government will review the Competence Based Curriculum (CBC) with the aim of improving it....
Sep 20, 2022 at 09:25 AM
President Ruto has promised to form an Education Reform taskforce to review the CBC curriculum....
Jun 12, 2022 at 11:51 AM
LSK President Nelson Havi can now breathe a sigh of relief after three High Court judges declined to terminate the case challenging the Competency-based Curriculum (CBC)....
Apr 20, 2022 at 04:57 PM
President Kenyatta has challenged politicians not to just identify problems but also come up with solutions....
Sep 23, 2021 at 02:51 PM
The debate about the place of parents in the education of their children has brought to my mind an experience I had in the early 2000....
Sep 17, 2021 at 11:04 AM
In the petition, the Havi-led team argues that the curriculum review and introduction of CBC as a replacement for the 8-4-4 system was not done in accordance to the law....
Sep 09, 2021 at 07:57 PM
Education Cabinet Secretary Professor George Magoha has issued a statement following complaints raised on the Competency-Based Curriculum (CBC)....
Sep 09, 2021 at 12:01 PM
In a statement on Thursday, KICD noted that CBC is still a new baby, adding that the implementation is being done in phases....
Sep 09, 2021 at 08:21 AM
Havi: The education system in Kenya should not be an expensive, inefficient and ineffective experiment with our children...