May 25, 2023 at 09:04 AM
"As long as we put food on the table. The best part is eating fresh food from kibandaski. Mjengo pia ni kazi tusitishwe!"...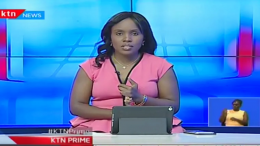 Dec 19, 2021 at 11:43 AM
This follows her appointment to the FKF secretariat by Sports Cabinet Secretary Amb. Amina Mohamed....
Nov 14, 2021 at 09:31 AM
New details have emerged indicating that an official from the Ministry approached Radull for a position in the appointments, but things did not work out as planned....
Jul 29, 2021 at 01:02 PM
In a statement posted on her Twitter page, Lindah noted that she is suffering from crazy fever and has lost her sense of taste and smell....
Apr 24, 2021 at 01:06 PM
NTV has hired a number of presenters who were formerly at KTN....